If you're planning a vacation to the Orlando theme parks, then you're in for a treat.
It really is the most magical place on earth. Dreams really do come true. Little girls really can be a Princess for a day. Little boys can live a pirate's life.
Heck, any Muggle can transform into a wizard. Or train how to use a wand.
So many Orlando theme parks to visit, so many experiences, so many attractions, so many things to do.
Sheesh, where do you even start to plan a vacation to the Orlando Theme Parks?
We know just how overwhelming planning a first trip can be, but don't worry, it's not as daunting as you may think, once you know the basics.
This Orlando Theme Parks Beginners Guide will give you an overview of all you need to know.
And don't forget we're always on hand to answer any questions too. Even if you're not staying with us, we're happy to help.
So let's dive in…
1) Accept You Can't Do All the Orlando Theme Parks in One Visit
Really, it's just not humanly possible. Unless you happen to be Harry Potter or Superman. In which case you wouldn't be reading this blog.
There's just so many incredible things to do in Orlando, don't even consider trying to cram it all in. As well as 10 major theme parks, there are hundreds of smaller attractions throughout Central Florida too.
It's a great excuse to plan a return trip!
SheiKra at Busch Gardens is awesome
AN OVERVIEW OF THE 10 MAIN ORLANDO THEME PARKS:
You also need to include some downtime. The parks are exhilarating, but can be exhausting, especially in the heat. Give yourself time to relax, catch your breath and just enjoy being with your friends and family.
Stay home and relax for a day, take a trip to the beaches near Orlando, explore one of the beautiful state parks. There are lots of relaxing things to do to give you a break from the bustling theme parks.
Princess Cora makes some time to relax and unwind
2) Understand How VAST the Orlando Theme Parks Actually Are
We often get asked "How far are you from Disney?" But did you know that Disney World Resort is almost the size of San Francisco? Twice the size of Manhattan?
At 43 square miles, Disney is seriously huge. 
Universal Orlando may not be anywhere near the size of Disney in terms of space, but the Universal parks still pack a mighty punch.
SeaWorld, Discovery Cove and Busch Gardens are other big contenders for your precious time.
SO, JUST HOW BIG ARE THE ORLANDO THEME PARKS?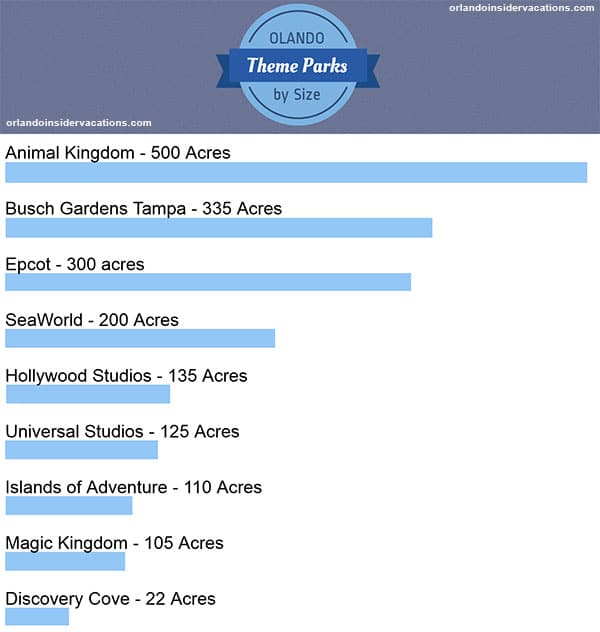 3) Learn The Locations of Orlando Theme Parks
Despite popular belief, most of the Orlando theme parks are not even in Orlando. Disney's Animal Kingdom is over 20 miles away from Orlando.
Take a look at this Orlando Theme Park Map to see where the parks are:
Orlando Theme Parks Map
So Let's Break Down the Orlando Theme Parks
into Bite Size Pieces:
---
WALT DISNEY WORLD
---
Dreams really can come true at Disney World!
Walt Disney World is home to:
All 4 Disney theme parks have totally separate themes and are in different locations.
Epcot and Hollywood Studios are in the same vicinity. There is a walkway between the two. It's a pleasant stroll along the waterways and through Disney's Boardwalk, but it's over a mile long.
A pleasant riverside stroll between Epcot and Hollywood Studios
You can get a ferryboat (free) between Epcot and Hollywood Studios. Don't forget you have to go all the way back to collect your car though.
Take a ferryboat between Epcot and Hollywood Studios
Epcot and Magic Kingdom are both accessible from the Disney Ticket & Transportation Center – from here you can get a monorail or ferryboat to Magic Kingdom or a monorail to Epcot. Epcot also has its own parking lot.
Monorail to Epcot or Magic Kingdom
Animal Kingdom is in the south-west of Disney and is just 4-5 miles from our Orlando vacation homes.
Once you have paid for parking, you can come and go as you please. One parking fee covers you for all Disney parks, for the whole day and evening.
An Overview of Disney's Theme Parks
Magic Kingdom
Bronze statues of Chip n Dale in front of the iconic Cinderella's Castle
The most famous of all theme parks. Home to the iconic Cinderella Castle, awe-inspiring parades and a dazzling nightly firework extravaganza.
The Magic Kingdom is geared up towards smaller children, but there's no shortage of things for older kids and adults to do either.
It's not so big on the scary ride factor, but Magic Kingdom really isn't geared up to thrill rides. It's more about the atmosphere and experience. There are some roller-coasters, although none that would make the 'top ten scary rides on the planet' list.
Epcot
Spaceship Earth and Showcase Lagoon at Epcot
Split into two distinct areas, Epcot is perfect for all ages and offers a whole lot more for adults too. Epcot is a huge park (twice the size of Magic Kingdom) so be prepared for some serious walking.
Future World focuses on technology, mankind and imagination, making education fascinating for youngsters.
World Showcase is set around Showcase Lagoon and is home to 11 different countries, each celebrating their culture, food and traditions.
There's plenty at Epcot for Kids too.
Hollywood Studios
Hollywood Tower – an epic ride!
This is where the movies come alive. Star Wars has exploded onto the Hollywood Studios scene too – don't miss Symphony in the Stars: A Galactic Spectacular.
Hollywood Studios is perfect for all ages – plenty for the youngsters to see and some awesome rides – Hollywood Tower of Terror and Rock 'n' Roller Coaster Starring Aerosmith for adults and older kids.
Animal Kingdom
The biggest Disney park in the world, Animal Kingdom is so much more than just animals. It's theme is very much towards making education and conservation fun for all ages. Thrill rides, safaris, animal encounters and live shows, there's something for everyone here. Animal Kingdom night time events were recently introduced, extending the opening hours even longer. The Rivers of Light night-time spectacular was launched in February 2017 and the hugely popular Pandora: World of Avatar opened in May 2017.
---
UNIVERSAL ORLANDO
---
The entrance to Universal Orlando
Universal Orlando Resort is spread over almost 700 acres:
Check out our Universal Ride Guide
Universal Studios
It's all about the movies at Universal Studios with some pretty awesome rides and roller-coasters thrown in for good measure. This living and working studio takes you behind the scenes and into the action for fun, thrills and comedy.
Universal Studios Orlando
Wizarding World of Harry Potter – Diagon Alley
Diagon Alley is located inside Universal Studios. It's the newest section of the Wizarding World of Harry Potter that opened in 2014. The amazingly atmospheric mini-town is home to shops, stores, dining options, an awesome ride and a fire-breathing dragon.
The Ukrainian Ironbelly Dragon towers over Diagon Alley
Do you Have to Buy a Separate Ticket for Harry Potter World?
The answer is No. The Wizarding World of Harry Potter is included in your park admission. Diagon Alley is located inside Universal Studios, Hogsmeade is located in Islands of Adventure.
You DO need a 2 park ticket to visit both Diagon Alley and Hogsmeade.
You also need a 2 park ticket to ride the Hogwarts Express between the two parks.
Islands of Adventure
The bright and colorful Seuss Landing
Islands of Adventure is all about non-stop-fun, coaster twists and turns and epic attractions. There are over 20 rides here and also several rides suitable for kids under 10. Thrill seekers will be spoiled for choice and comic book fans will be enthralled. Edgy thrill rides, amazing 3D adventures, get-drenched attractions and incredible themed islands.
Hogsmeade at Islands of Adventure
Hogsmeade at Islands of Adventure
Hogsmeade is the original Harry Potter section and is located inside Islands of Adventure. Cobbled streets, enchanting crooked buildings and of course Hogwarts Castle.
---
SeaWorld Parks & Entertainment
---
 SeaWorld Entertainment includes:
All 4 parks are entirely separately themed and equally amazing
SeaWorld Orlando
World famous for killer whales, dolphins and live shows, SeaWorld is also home to some pretty amazing roller-coasters too. Mako and the virtual reality Kraken Unleashed to highlight just two.
Jewel of the Sea Aquarium
SeaWorld is huge on conservation, animal research and saving wildlife. The care of the environment is evident throughout the park and they make it fun, fun, fun for kids to learn how they can help.
Discovery Cove
Swim with Dolphins at Discovery Cove
If swimming with dolphins is your dream, then Discovery Cove is the place for you. It might be higher priced than all the other parks, but the experience is a one-off. Even without a dolphin swim, it's a wonderful experience with plenty of wildlife and water interaction. Perfect for all ages.
Busch Gardens Tampa
Just over an hour from our rental homes, Busch Gardens in Tampa is perfect for a full day away. Animal encounters and thrills all day long.
The conservation theme carries over to Busch Gardens with plenty of wildlife exhibits and experiences. Rides are in abundance too and will keep all the thrill seekers in the family more than happy.
Animal Encounters and Thrill Rides at Busch Gardens
---
LEGOLand Florida
---
LEGOLand is around 30 miles from our rental homes and is aimed at 2 to 12 year olds.
It has over 50 rides, attractions and shows, plus a water park and 4D movie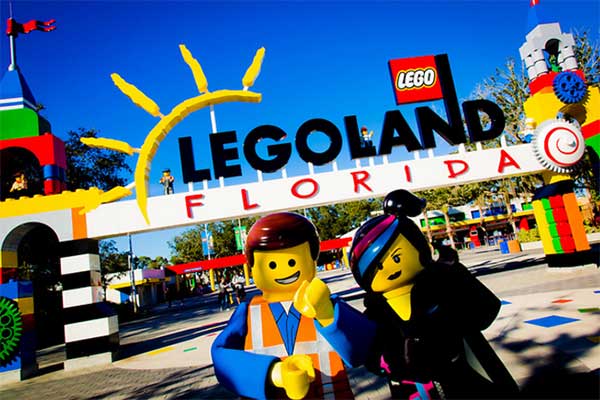 ---
Orlando Insider Top Tips
---
Plan, Plan, Plan. Then Plan Again!
Planning is a big part of your vacation too, so enjoy the excitement of discovering all the great things to do in Orlando.
Get the kids involved, they'll think of things you won't.
Ask the opinions of everyone who will be going with you, there's no 'one size fits all' plan.
Get everyone involved and make it fun, fun, fun.
Be fllexible – accept plans change and allow some wiggle room for the unexpected
It can be an art working out where to go, when to go, what day and in what direction.
So where do you start?
Touring Plans
A Touring Plan might be a great help for you. Check out these resources for Orlando Touring Plans:
Study Ticket Options
All the parks offer 1 day base tickets, but buying multiple days works out much more cost-effective.
Disney Tickets
A 1 day base ticket gives you 1 day access to 1 park. Disney offer 'Magic Your Way' packages which work out cheaper the more days you add. You can add on water parks, golf and Disney Quest.
A Park Hopper ticket means you can 'hop' to any park on the same day. You could go to Animal Kingdom in the morning, Epcot in the afternoon, then head to Magic Kingdom in the evening. Without a Park Hopper, you are restricted to 1 park per day.
TouringPlans.com have a great Disney ticket price checker
Universal Tickets
With Universal, there are 2 parks so you need to pay entry for each park. You need a 2 Park Pass to be able to ride the Hogwarts Express. This fascinating train ride connects the two worlds of Harry Potter – Hogsmeade Village is in Islands of Adventure, Diagon Alley is in Universal Studios.
There are multiple ticket options, so take your time to plan. If you are not sure how many days you will need, get a basic ticket and then upgrade it in the park if you decide you need more time. As long as you upgrade before the ticket expires, you will just pay the difference. Always book Universal tickets in advance, never buy them at the gate.
Make Use of MYDisneyExperience & FastPass+
First things first. Get your Disney tickets well in advance, go to MyDisneyExperience.com and create an account. From here you can book FastPasses, make dining reservations and a whole range of other things.
Register and link everyone who will be traveling with you so you can all book things to do together at the same time.
FastPass+: You can pre-book time slots on all the popular attractions throughout all 4 Disney Parks. It's a free service and advance reservations for 3 attractions a day can be made as far ahead as 30 days. (Longer if you're staying in a Disney resort). You can amend, cancel or add attractions at any time.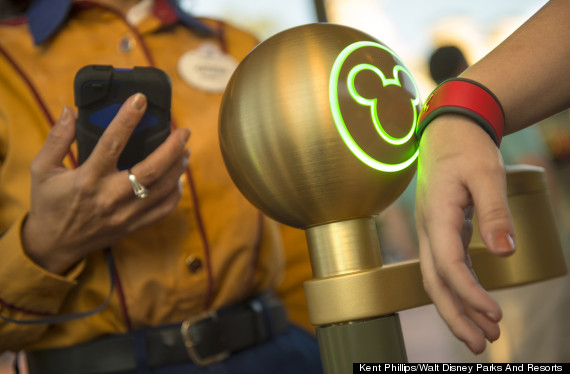 More Details: 9 Easy Steps to FastPass+
Updates: FastPass+ Changes – April 2016
Consider Universal Express Pass
Sometimes this is needed, sometimes it's not, so it really depends on the time of year and the attractions you are most interested in. Check out our quick guide to Universal Express.
More Details: Universal Express Pass
Celebrate with Buttons
If any of you have a birthday, anniversary, engagement or any kind of celebration, call at guest services at any of the parks for a Celebration Button. Kids will LOVE getting wished a happy birthday by Cast Members all day long. They'll go out of their way to high-five and Happy Birthday, Happy Anniversary or whatever the occasion. You may even get a complimentary snack or drink, it sometimes happens, but not always, so don't expect it. It can really make for a special trip.
Get an Autograph Book for the Kids
The characters will sign their names and the kids will love collecting the autographs. Big pens or thick sharpies are easier for the characters to hold when in costume. Many wear gloves so make it super easy for the characters to hold the pen and sign. You can buy autograph books in the parks or the Disney stores. You could also buy plain writing pads before you go and have the kids decorate them. A photo album can also be used: Get index cards for the characters to sign and store an image with the character next to it. Buy a bigger sized autograph book – the extra space makes it easier for the characters to sign and they often leave an extra message if they have more space. The characters love stickers of themselves on the page too!
Book Dining in Advance
If there's a certain dining option you want to take or a character meal your kids are desperate to do, make sure you book well in advance. Dining reservations open up 180 days in advance. If your little princess wants to dine at Cinderella's Royal Table or your little mouse wants to have breakfast with Chef Mickey, then get your finger on the dial on the 180 day mark.
Full Details: Disney Character Dining
We hope this beginners guide to the theme parks helped, but we're always here if you have any other questions at all. Just hit the form on the right and ask away!