Looking to eat local? Check out these Celebration Florida Restaurants, you'll be Spoiled for Choice.
With Walt Disney World at one end and the Town of Celebration at the other end, World Drive is a pretty special highway!
The Town of Celebration was designed and built by Disney and is just beautiful. These days, it's a town in its own right with large imposing Georgetown style mansions reminiscent of Gone With The Wind. It's well worth putting on your 'must visit' list. If you're staying in one of our vacation homes, Celebration is the closest downtown location. Just 10-15 minutes away.
And such a great location demands quality dining.
Celebration Florida restaurants don't disappoint.
Downtown Celebration centers on two streets: Market Street, lined with stores and eateries, and Front Street, overlooking Lake Rianhard and its' calm shimmering waters.
For such a compact downtown area, Celebration Florida restaurants offer a huge range of choice.
Incredibly, there are no fewer than 9 eateries, a cake shop, ice cream parlor plus a bakery and deli.
With cuisine from Cuba, France, Italy, Thailand, Japan, Mexico and good old USA, it's a culinary trip around the world in a quarter-mile space.
So Lets Take a Closer Look at Celebration Florida Restaurants
Columbia Restaurant
Columbia Restaurant has the distinction of being Florida's oldest restaurant chain. And when we say 'chain' don't think big conglomerate. There are only 7 restaurants in this family run business, all located in Florida.
First opened in Ybor City way back in 1905, the same family still own and run the business today. The Celebration restaurant has an elegant Mediterranean setting with Spanish/Cuban cuisine in olde worlde surrounds. There's also an outside courtyard, a Tapas Bar and a restaurant store.
Slightly upmarket, casual dress is acceptable, although sleeveless shirts on men is not. The formal dining room offers something a little more elegant, while the outdoor sidewalk patio offers casual seating with overhead fans.
Start dinner with a tableside prepared Mojito, or choose from the extensive wine list. Or go for a Cerveza – local and craft beers are available.
The extensive menu features delicious homemade bean soups and several salads including the "World Famous" 1905. The 1905 salad is prepared by your server tableside and uses an age-old secret family recipe.
The Tapas menu features plenty of choice for sharing. Have as an appetizer, or create a whole meal from the selections.
The wide variety of entrees include seafood, a fine selection of steaks including the house special Filet Mignon Chacho flambed tableside. The chicken menu includes the Valenciana, an original baked casserole that helped the restaurant along the road to success all those years ago.
Or you could opt for paella – several choices are offered as well as our favorite, Paella "A la Valenciana". The paella is made to order and takes around 30 minutes to prepare.
And if you can't decide, combos might be the way to go. Try the La Completa Cubana for a flavorful Cuban feast. Or the Marilyn & Joe "Salteado" named after famous patrons of the 1950's, Joe DiMaggio and Marilyn Monroe.
Make sure you save room for dessert. A personal favorite is the White Chocolate Bread Pudding.
Or is it the Churros "Tres Amigos"?
Oh wait, what about the Key Lime Pie? Great-grandmother Carmen was born in Key West. When the family moved to Ybor City, what did they pack? Yup, they uprooted the Key Lime Tree so they could still have delicious 'real' Key Lime Pie.
Columbia Restaurant also has a store offering Cuban and American roast coffee, salad dressings and even fine cigars.
Address: 649 Front Street, Celebration, FL 34747
Phone: 407 566 1505
Web:  Columbia Menu
Reviews: Google Reviews | TripAdvisor Reviews
---
Imperium Food & Wine
With a wide selection of wines from across the world, Imperium Food and Wine are open for brunch, lunch and dinner.
There's an impressive variety of soup and salads, flatbreads and sandwiches, sliders and wraps. Choices of fillings include chicken, pork, brisket, turkey, salmon, shrimp and way too many more to mention.
Weekend Specials are available from Thursday – Saturday nights and they also do a Sunday Brunch, including a Kid's Brunch.
Any wine connoisseurs? You can join in with the wine tasting paired with a variety of cheese. There are several different themes and you do need to reserve in advance
There is indoor and outdoor seating in Market Street, weather permitting. (Just kidding about the last bit!)
Address: 606 Market Street, Celebration, FL 34747
Phone:  (407) 566-9054
Web: Imperium Food & Wine
Reviews: Google Reviews | TripAdvisor Reviews
---
Celebration Town Tavern
Celebration Town Tavern is a sprawling family owned New England style seafood and steak house that opened in 2000.
As well as an extensive menu, Celebration Town Tavern is beer drinker paradise, offering a choice of 99 beers in bottles and a dozen or so on draft.
Special Boston style food favorites include an award-winning New England Chowder, fish-n-chips, Maine lobster roll, meatloaf or turkey stacker and franks and beans.
Appetizers, soups, salads, sandwiches and a host of half pound burgers such as black and blue burger, spicy black bean burger and bison burger are all sizzling in the kitchen.
Clams, oysters, salmon, mahi mahi and Boston scrod (young white fish such as cod or haddock) from the sea and steak, ribs, filet mignon and chicken go some way towards completing the wide choice.
This place is a favorite neighborhood gathering place with a warm and friendly atmosphere. Chill out on the outdoor deck, or take a seat inside in the New England style dining room. There's also a bar area with numerous TVs for sporting events.
Address: 721 Front St Celebration, FL 34747
Phone: 407 566 2526
Web: Celebration Town Tavern Menu
Reviews: Google Reviews | TripAdvisor Reviews
---
Cafe D'Antonio
For a taste of Italy, head straight over to Cafe D'Antonio. Featuring dishes from various Italian regions, the restaurant is located on the corner of Front Street and Market Street and offers elegant and casual dining inside or dine al fresco overlooking the lake.
Cafe D'Antonio features an open kitchen with a wood burning oven, grill and rotisserie.
A large and varied menu features Italian classics such as such Antipasto Misto, Caprese, Mussels Fradiavolo and Bruschetta Romana for appetizers.
There's a wide choice of pasta dishes, fresh fish, chicken, ribs, lamb, veal, Black Angus steak, filet mignon and…..er, what's the other thing they make? Oh, yes..pizzas.
Have pizza grilled or calzone style from a wide selection, or make your own creation from the list of toppings.
For open flame oak wood specials, try the New York strip, rib eye or salmon. Entree's include mama's staples such as lasagne, braised lamb shank and Zuppa Di Pesce, a delicious fish broth traditionally from Southern Italy.
The rotisserie chicken is another popular choice, prepared with fresh herbs, garlic and olive oil.
Make sure you leave room for famous desserts like Tiramisu or the imported Lemon Ripieno. Chocolate lovers will be a tad partial to the Torta di Cioccolato, a rich traditional chocolate cake. And for a real taste of Italy to finish off dinner, try the Tartufo al Cioccolato, a decadent chocolate truffle.
Kids are catered for with several dishes including cheese pie, chicken parmigiana and several pasta dishes. And of course ice cream.
The lunch menu offers pretty much the selection of dinner choices, plus soups, salads and sandwiches.
Address: 691 Front Street, Celebration, Fl 34747
Phone: 407 566 2233
Web: Cafe D'Antonio
Reviews: Google Reviews | TripAdvisor Reviews
---
Aru Sushi
Ari Sushi is an authentic Japanese restaurant offering a sushi bar and sushi dining room.
Sit outside and enjoy the peace and quiet of Celebration, or sit at the counter and watch the chefs create.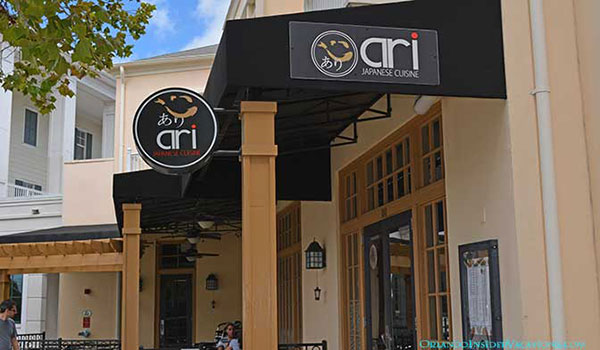 There's a wide range of sushi and a large selection of traditional dishes. It might be confusing, but the staff are incredibly helpful and will answer any questions for those not familiar with Japanese dining.
House specialties include filet mignon, chicken picante, mango salmon, sea bass and New York Steak. There is also a Kid's menu and an extensive lunch menu.
Address: 671 Front St. Ste. 100, Celebration, FL 34747
Phone: 407 566-1889
Web: Ari Sushi
Reviews: Google Reviews | TripAdvisor Reviews
---
Market Street Cafe
Market Street Cafe is the large corner building on the junction with sidewalk seating. Open for all-day breakfast, lunch and dinner, monthly specials, lunch specials and kids eat free on Thursday nights, there is plenty to tempt you in.
All day Breakfast includes blueberry pancakes, maple butter french toast, omelets, sandwiches, burritos, pancakes, French toast, Benedicts and cereals all with fillings of your choice. In fact, why not create your own breakfast with your own favorites.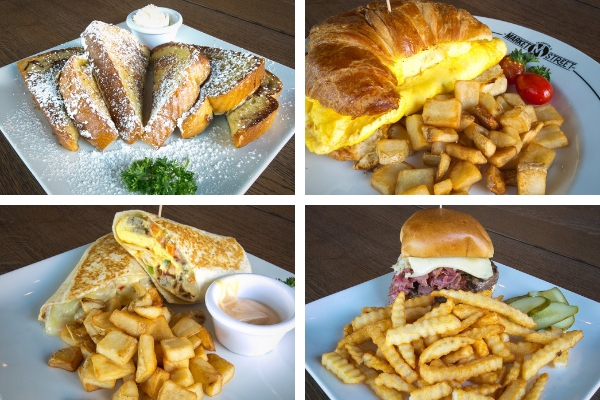 The main menu includes soups, salads, chili, braised pot roast, chicken pot pie, fish and chips, Cajun pasta, beef stroganoff, meatloaf and ribs. 
For dessert, there's homemade banana cream pie, key lime pie, pecan pie, apple pie and a whole host of temptations.
Address: 701 Front Street, Celebration, FL 34747
Phone: 407-566-1144
Web: Market Street Cafe
Reviews: Google Reviews | TripAdvisor Reviews
---
Avocado Mexican Grill
One of the newer Celebration Florida restaurants, Avocado Mexican Grill has also changed ownership in May 16.
As well as a whole range of Mexican food, Avocados also offers Mexican styled cocktails and margaritas.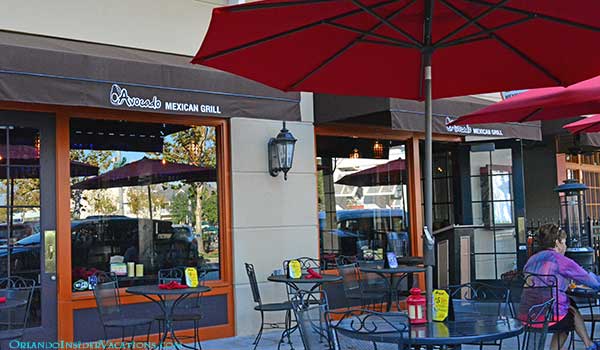 For a little taste of tradition, Avocado offer the usual favorites such as burritos, quesadilla and enchiladas. House specialties include Chile Relleno which is pepper stuffed with cheese topped with sauce. Alambre is a selection of meats and sausage with melted cheese and sides. For vegetarians, they offer a selection of veggie creations including fajita, burritos and quesadilla.
For the kids, there's Taco Junior, Burrito Junior, Quesadilla Junior and chicken fingers.
Make sure you leave room to squeeze in a dessert. Deep Fried Ice Cream and Churros are among the sweet treats on offer.
Address: 715 Bloom Street, Suite 130, Celebration, FL
Phone: 407 566 1212
Web: Avocado Mexican Grill
Reviews: Google Reviews | TripAdvisor Reviews
---
Upper Crust Pizza
Opened in 2001, the Upper Crust Pizza serves two styles of pizza, thick Sicilian and New York with toppings of your choice. Take the whole pizza, or just grab a slice to go.
The "Crusti" is the specialty – an open face Calzone stuffed with homemade meatloaf, steak and Greek salad.
Other options include oven baked subs and wraps, chicken wings and salads.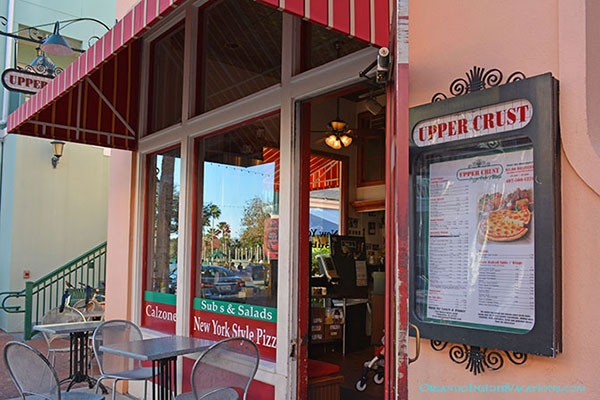 And it doesn't stop at savory. You can also get rotating desserts. Chocolate and apple cinnamon pizza anyone?
Address: 606 Market Street, #160, Celebration, FL 34747
Phone: 407-566-1221
Web: Upper Crust Pizza
Reviews: Google Reviews | TripAdvisor Reviews
---
Thai Thani
Thai Thani was established by a member of the Thai Ministry of Commerce to promote Thai cuisine, traditional decor and their warm and friendly culture. In theory, this is hoped to be the start of a chain of similar restaurants throughout America and Europe.
The extensive dinner menu offers an abundance of appetizers, soups, salads, seafood, chicken, beef and pork to whet the appetite. And if that is not enough to make your head spin with choice, they also serve spicy dishes, noodles and fried rice, duck specials and house specialties.
The chef will cook to order so you can choose your own heat level.
Address: 600 Market St #110, Celebration, FL 34747
Phone: 407-566-9444
Reviews: Google Reviews | TripAdvisor Reviews
---
Kilwin's Ice Cream Parlor
For sweet tooth cravings, head to Kilwins. This ice cream parlor serves a whole range of ice cream flavors, shakes and sundaes. The smell of chocolate, caramel, corn and fudge being hand-crafted in store is enough to make you drool while standing in line.
You can watch as a host of tempting treats are made using methods that have not changed since they were originated in 1947. The signature turtle fudge is a delight. The covered apples are hand-dipped in hand-made caramel and coated in an array of toppings. Traditional copper kettles are used to make the corns and brittle.
The store carries a range of boxed and wrapped goodies if you're looking for a sweet gift. There's always seasonal gifts available too.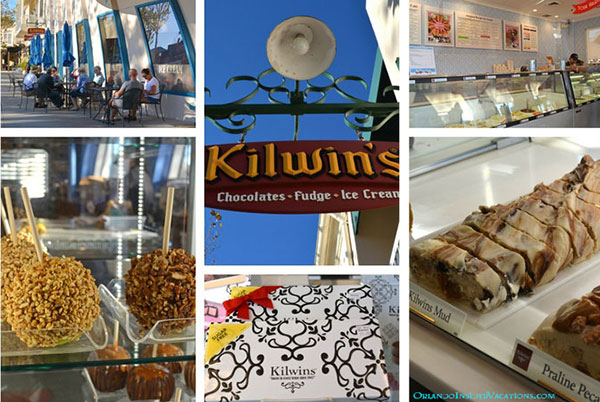 So what's our favorite ice cream flavor? The toasted coconut and mint chocolate chip always manage to make an appearance on the bill. And the turtle cheesecake is usually included somewhere in the dilemma when trying to make a decision.
Sit on the sidewalk tables, soak up the sunshine and watch the kids squealing with excitement as they play in the fountain opposite.
Address: 671 Front St, Kissimmee, FL 34747
Phone: 407 566 8555
Web: Kilwins Celebration
Reviews: Google Reviews | TripAdvisor Reviews
---
Le Macaron
And just to rub sugar on the wound, the French bakery next door has a delightful range of treats with a little bit of French elegance thrown in for good measure.
The macaron is widely considered to be the jewel in the pastry crown in Europe. These brightly colored confectionery delights are a sight for sore eyes as well as temptation for the taste buds. Would you believe there are only 80 calories each? Apparently so! Gluten free too.
Le Macaron promise: "We offer little luxuries that make people smile – make life a little better".
Pop in and see the colorful display and you're sure to come out smiling. There's gourmet chocolate, hand-made candies, creamy French gelato and classic French pastries along with European style coffee.
Sit inside in the cool and bright cafe. Or take your treats to the rocking chairs across the road overlooking the lake and drift away to heaven.
Address: 671 Front St #110, Celebration, FL 34747
Phone: 321 626 7988
Web: Le Macaron Celebration
Reviews: Google Reviews | TripAdvisor Reviews
---
Sweet Escape Bakery & Deli
Sweet Escape is an authentic Victorian and European Style bakery and deli.
Open for breakfast, lunch and dinner, Sweet Escape features soups, salads, deli and artisan sandwiches featuring cheese, ham, bacon, turkey, corned beef and other meats and cheeses produced by Boar's Head.
Breakfast includes cinnamon rolls, apple turnovers, muffins, Danish pastries and bagels, doughnuts, oats or toast.
There's a range of freshly baked breads and bagels plus locally roasted fresh coffee brewing all day long. For that sweet tooth craving, the array of cupcakes, pastries, brownies, cookies, macaroons and desserts will send you into overdrive!
Address: 603 Market St #110, Celebration, FL 34747
Phone: 407 566 0603
Web: Sweet Escape Celebration Fl
Reviews: Google Reviews | TripAdvisor Reviews
---
Woof Gang Bakery
While we're on the subject for foodie fun for the family, how could we leave out the furry kids? Boy, is poochy in for a pawesome treat!
Not only do Celebration Town Tavern, Columbia Restaurant and Market Street Cafe have doggy dining areas, Celebration also has a whole store dedicated to pampering pets.
Woof Gang Bakery offers a range of healthy paw licking treats and premium pet food. It's all totally natural and healthy too. The store hand-make the products and only use the finest, human-grade products, so pets can enjoy healthy treats.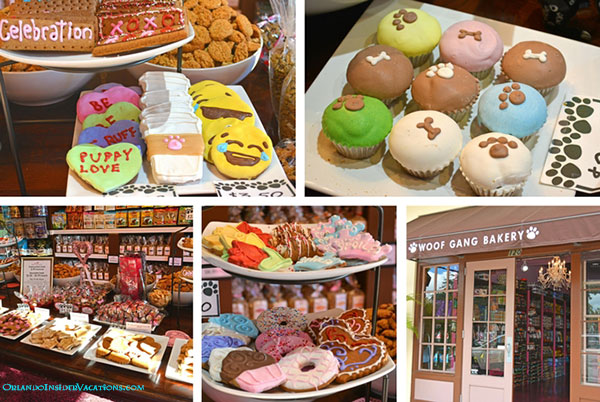 There's also fuzzy, furry and floatable toys and, for the fashion conscious pooch, there are costumes, collars and leads. And it doesn't stop there, from pawdicures to full grooming, there's a whole range of pampering to be had. They cater for cats too.
Address: 671 Front Street Suite 120 Celebration, FL 34747
Phone: 321 939 2253
Web: Woof Gang Bakery, Celebration
Reviews: Google Reviews 
---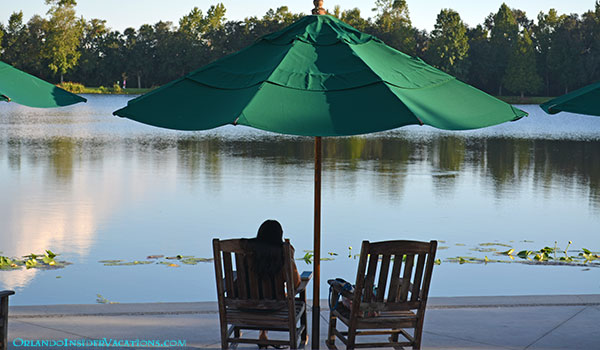 So there you have the rundown on Celebration Florida restaurants. Take in the beautiful surroundings, shaded boardwalk and winding pathways around the lake before or after dining. Let the hustle and bustle of the theme parks slowly fade away.
Put the Town of Celebration Florida restaurants on your dining plan. You'll be glad you did.
---
And if you're looking for Orlando accommodation, we'd love to welcome you to one of our 3 vacation rental homes.