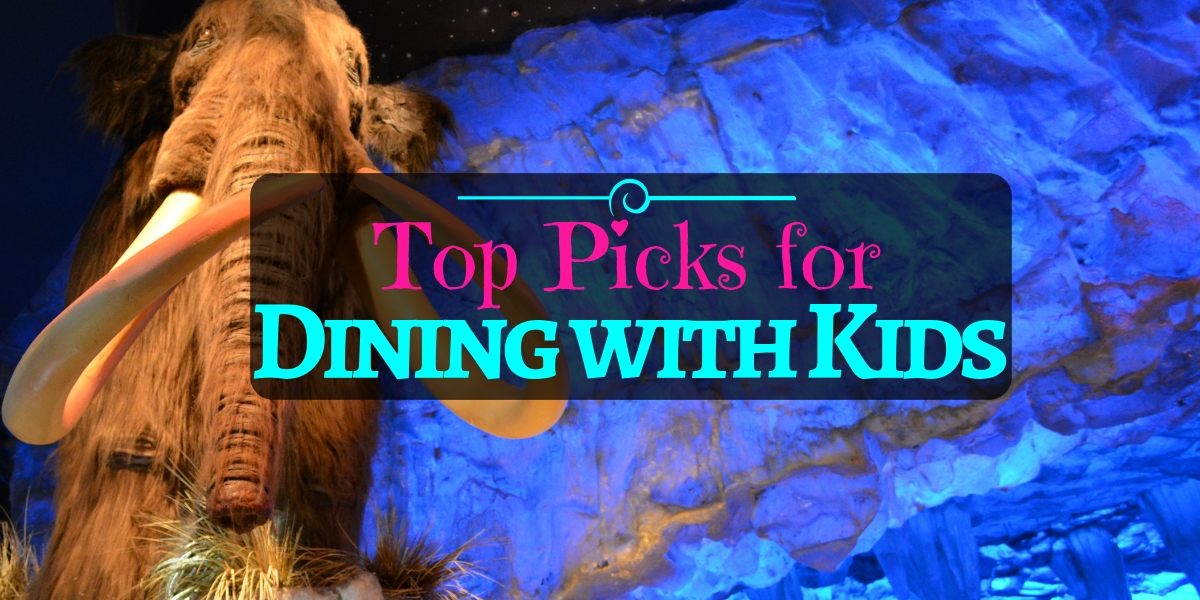 Planning your Orlando Family Vacation? Check out our Top Picks for the Best Restaurants for Kids
An Orlando family vacation is a special kind of magic and you and your family will want to experience that magic up close and in high-definition.
No doubt you'll have a checklist as long as your arm of things you and your family want to see and do. And honestly, I wonder who is more excited – you or the kids?!
You've got your luxury family accommodation sorted. You know everything there is to know about all the parks. (And if you don't, check out our Disney Secrets). You're here for fun, fun and more fun.
But what about the food?
Foodie Fun for Your Orlando Family Vacation
Orlando has a huge selection of restaurants with exceptional, world-class dining. Many places offer a truly exquisite dining experience. But with so many options, it can be difficult to figure out the best places to eat – especially for the kids.
Mealtimes will be as much about creating memories as any other experience on your Orlando family vacation. So, here's our insider's guide to some awesome restaurants perfect for kids.
Best for Character Dining
Chef Mickey's
Character dining is almost a right of passage for the kids lucky enough to enjoy a trip to Orlando. But, if you are going to pick just one meal to have in the company of the Disney characters, make it this one.
Let us clarify that we are not recommending Chef Mickey's for the food. If you want fine dining and high quality food, this isn't the place for you. But for character interaction and a dining experience the kids will remember for a long time to come, Chef Mickey's is pretty hard to beat.
The food is American cuisine in a buffet/family style. Kids get their own mini-buffet and can head to the ice-cream sundae bar or tuck into Disney themed sweet treats and desserts.
But the real attraction here isn't the food, it's the Disney characters. In what will surely be a major highlight of your Orlando family vacation, your kids will get to meet the main man himself. The one and only Mickey Mouse. Chef Mickey to be exact.
Plus Minnie, Donald, Pluto and Goofy. The Fab Five all together in one room!
The monorail also runs right through the resort which the kids will find pretty cool.
Chef Mickey's will appeal to the kid inside us all.



1) If you are celebrating a birthday or special occasion, be sure to let them know in advance and they will make an extra special effort to help with your celebrations.
2) Don't forget an autograph book. And definitely DO NOT forget your camera!
3) Ask the characters about cooking and recipes – the interaction will make it extra special and will help keep the characters at your table a little longer.
Where: Disney's Contemporary Resort
Web: Chef Mickey's Character Dining
Reviews: TripAdvsior Reviews | Google Reviews
---
Best for Themed Dining
T-Rex Restaurant
If you're looking for a quiet conversation, this is definitely not the place to be. Why?
Because T-Rex Restaurant is an atmospheric wonderland with fun by the bucket-load.
It's loud, the decor is astounding, and it's a real trip. 
Any budding paleontologists will be enthralled with the animated dinosaurs and great sound effects. Adults will be equally impressed with the surroundings too. T-Rex himself announces he's there with a roar every now and then, there's a floating giant octopus accompanied by floating jellyfish and a blue glowing ice cavern. And of course dinosaurs and fossils. There are several themed dining 'rooms' all offering unique experiences. One even has a meteor shower. (It is noisy, so if your kids don't like loud sounds, don't sit in that section).
And do pay a visit to the restrooms! They are pretty funky!
The food is predominantly American, with a dino-themed kids menu. The kiddos will like the sounds of dinosaur-shaped Jurassic Chicken Tidbits, Paleo Pizza, Mini Mes-O-Bones or Prehistoric Pop'n Shrimp.
Fun desserts include Chocolate Extinction, a colossal fudge cake with ice cream, Ice Age Indulgence or the Meteor Bites. If the kids fancy a cocktail, they can get a Caveman Punch or other aptly themed drinks in a souvenir glass.
Take a trip 200 million years back for a fun-filled dining experience. Sounds cool, right?
T-Rex is right in the heart of Disney Springs, so take a stroll around to walk off dinner. And while you're there, be sure to call into Ghiradellis for your complimentary piece of chocolate!

After dinner, take a peek at the Dino-Store where the kids can Build-a-Dino or let them dig for bones in the Paleo Zone sand pit.
If you call Disney Dining to make a reservation (which you can do 180 days in advance) and they are full, call the restaurant direct. As T-Rex is not Disney owned, they only release a certain amount of seating to Disney Dining. Call direct on 407-828-8739
If you walk-in without a reservation and there is a long wait, you can always opt to dine at the bar – there is usually immediate seating available and the bar area has awesome decor.
Where: T-Rex Restaurant, Disney Springs MarketPlace 
Web: T-Rex Restaurant
Reviews: TripAdvisor Reviews | Google Reviews
---
Best Dinner Show
Hoop-Dee-Doo Musical Revue
The Hoop-Dee-Doo Musical Revue is a rollicking, Western-themed vaudeville dinner show that is sure to be a guaranteed hit with the entire family. It's so popular it's been running since 1974.
With hilarious hoedown-style comedy, you never know what to expect during an exciting 2 hours of singing, dancing and goofing around.
Make sure you go hungry. Dinner is served family style, with pails of all-you-can-eat fried chicken, smoked BBQ pork ribs, salad, baked beans and fresh-baked cornbread. There's vegetarian options too and do mention any special diets.
Make sure you leave room for dessert – the strawberry shortcake is nothing short of decadent yummyliciousness.
Food is served pioneer style on tin plates by the bucket-load. And did we mention it's endless? Just holler for your server and they'll slam more right down in front of you.
You can wash all this food down with unlimited soft drinks, coffee and tea. This includes beer, wine and sangria for over 21's.
Seatings are at 4pm, 6.15pm, and 8.30 pm. Whichever time you choose, we're sure you'll have a grand 'ol time. There are 3 categories for seating ranging in price from $54.99 for adults and $27.99 for kids, which includes tax and gratuity.
Make sure you allow plenty of time to arrive at Pioneer Hall – Disney advise to allow 90 minutes. You can't drive around Fort Wilderness, so if you take your car you have to park at the resort car park, then take the shuttle to the other end where Pioneer Hall is located. Alternatively you can park at Magic Kingdom and take the ferry to Fort Wilderness.

Arrive early and stay late – Fort Wilderness is awesome and the kids will love the adventure almost as much as the show. There are playgrounds, pony rides (until 5pm), carriage and wagon rides, nature trails, cycling, boat rides and swimming
Celebrate in Style – Be sure to mention any special celebrations such as a Birthday or Anniversary. The servers will be sure to make a fuss and the person celebrating may even get chosen to be part of the show.
See the Fort Wilderness Resort gallery below:
Where: Pioneer Hall, Disney's Wilderness Lodge
Web: Hoop Dee Doo Musical Revue
Reservations: Essential – book up to 180 days in advance Book Online or call 407-939-3463
Reviews: TripAdvisor Reviews | Google Reviews
---
Best for the Experience Itself
Cafe Tu Tu Tango
If you and your family are looking for a totally different experience for dinner, this restaurant is an absolute must.

With its bohemian ethos and brightly colored walls, Cafe Tu Tu Tango is themed on a Spanish artist's loft and integrates local art and artists into your dining experience. The walls are jammed with art (all for sale) and artists work all around you and interact while you dine.

Local art and kids might not sound like they go together, but trust us! The kids will love the funky vibe and the atmosphere is pure fun, fun, fun. Cafe Tu Tu Tango offers a unique culinary adventure, especially if you have kids who love to create.
There's spontaneous live entertainment, dance and music and the kids might get the chance to turn their hands to crafts and painting.

The menu features dishes from all over the world and is served on small, appetizer-sized plates meant for family sharing. Everything is freshly made using local ingredients. There's a wide choice of dips, street food, soups, flatbreads and pizzas, tacos and sliders. Seafood and meat entrees feature funky dishes including Vindaloo Chicken, Dynamite Shrimp and Gator Bites.
As you can imagine, this restaurant is very popular so be sure to make a reservation.
Where: Cafe Tu Tu Tango, 8625 International Drive Orlando, Florida 32819
Web: Cafe Tu Tu Tango
Reviews: TripAdvisor Reviews | Google Reviews
---
Best for Local Restaurant for Fun & Casual
Manny's Chop House
If you are staying in one of our Orlando vacation homes, Manny's Chop House is right on your doorstep – it's one of the restaurants within walking distance to Serenity Lake House, is 5 minutes drive from Sleepy Hollow and 8 minutes drive from Serendipity.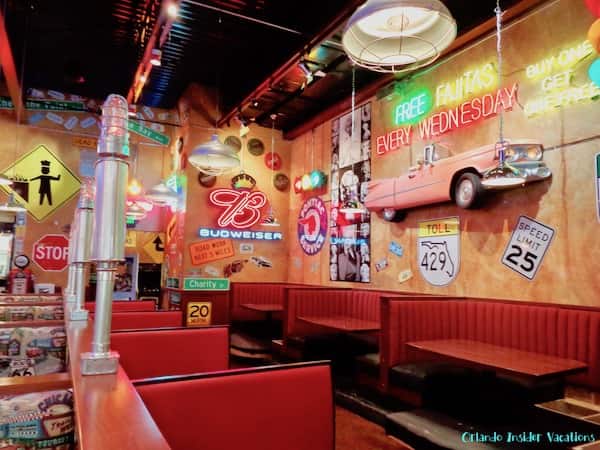 Manny's is a small local chain with 5 locations in Central Florida. It's hugely popular with both locals and visitors alike and there is often a long wait for a table. You can call ahead and add your name to reserve seating when you are ready to leave the house. This will put you ahead on the wait list.
The atmosphere is loud, the decor is bright and fun and the food offers something for most tastes. And best of all? Kids Eat Free every Monday and Tuesday (aged 10 and under, maximum 2 kids per adult entrée). They have daily specials like Buy 1 Get 1 Free Fajita's every Wednesday.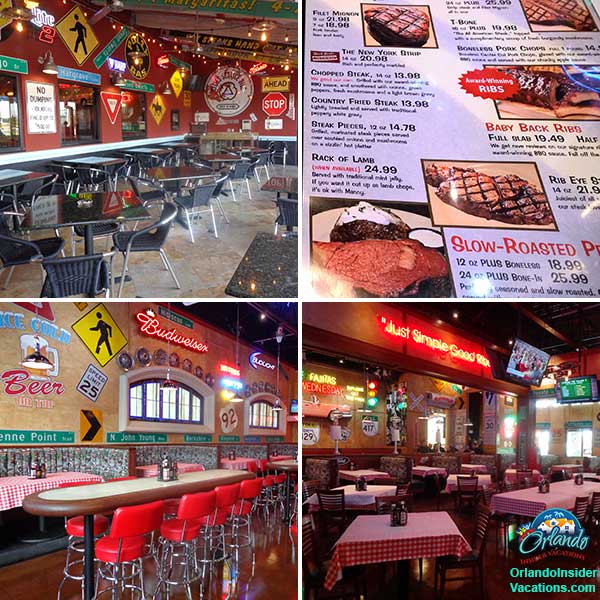 Most entrees include the awesome endless salad bowl (if not you can add it for a couple of dollars) and hot, melting home-baked yeast rolls with cinnamon butter. There are steaks, seafood, chicken, ribs and limited vegetarian options.
There's also happy hour every night from 4-7pm with 2-4-1 draft beer, wine and well brands.
Where: 8520 W Irlo Bronson Memorial Hwy, Kissimmee, FL 34747
Web: Manny's Chophouse
Call Ahead: 407-396-8880
Reviews: TripAdvisor Reviews | Google Reviews
---
Best for Upscale Family Dining
Flying Fish
If you're looking for somewhere a little special to take the kids, Disney's Flying Fish would be top of our list. With a 'smart casual' dress code, this upscale, oceanic themed restaurant is sure to make waves with all ages.
Disney call it "A sophisticated interpretation of nostalgic seaside luxury dining".
The Flying Fish has a tantalizing selection of food with the emphasis on seasonal seafood. You can cast your eyes to the on-stage kitchen and watch the talented team of chefs prepare your meal.
Offering premium seasonal seafood, prime steaks, the freshest of ingredients and delicious vegetarian options, the cuisine on offer here has something to offer every taste bud.
A Tour of the Coast features Key West Shrimp, Icy Blue Mussels, Local Clams, Florida Coast Grouper Cheek and Celeriac Purée.
Blue Crab Bisque is Jumbo Lump Crab, Melted Leeks, Aged Sherry, Tarragon Crème Fraîche
For the kids, there's Flying Fish and Chips with Scratch Tartar Sauce .
Or Mickey Pasta with Marinara and Skinny Green and Yellow Beans.
Corn-battered Rock Shrimp is served with Grits and Summer's Vegetables.
Kids meals come with a choice of Lowfat Milk or Water.
The assortment of seasonal desserts are a real treat too. Florida Reef (image above) is Lemon Tart, Toasted Meringue, Florida Citrus Salad and Ruby Red Grapefruit Sorbet.
Under the Sea is a delight for eyes and taste buds! Valrhona Manjari Chocolate, Chocolate Coral Sponge, Pistachio Sand, Dehydrated Milk Foam and tasting of Three Sea Salts.
Flying Fish is located at Disney's Boardwalk, so after dinner you can take a stroll around the lagoon, catch some street performers or take a boat ride.

After Dinner, Watch the Fireworks FREE!
You can catch Epcot's IllumiNations – make your way to the bridge at International Gateway for the best view, it's just a few minutes stroll from Flying Fish. If you head in the opposite direction, you can also see the fireworks from the bridge at the Swan & Dolphin Resort. You won't see the lasers over Showcase Lagoon, but you will see the fireworks.
If you have tickets for Disney, you can make use of Epcot's International Gateway entrance.
The perfect way to end an evening of fun food!
Where: Disney's Boardwalk Resort
Web: Flying Fish
Reviews: TripAdvisor Reviews | Google Reviews
Get The Most Out of Your Orlando Family Vacation
An Orlando family vacation is the stuff dreams are made of. With an incredible variety of awesome things to do, Orlando simply offers it all.
Eating is all part of the vacation experience and you don't want any regrets. Be sure to check out these best family friendly restaurants and make sure the memories you take home are ones the entire family can cherish for a lifetime.