Things to Do for Father's Day in Orlando
Looking for things to do on Father's Day in Orlando? Spending Father's Day in Kissimmee? No matter where you are in Central Florida, there are plenty of cool ideas for Dad on June 18th 2017.
Treat Dad to A Bit of Blue
The Blue Man Group is a scream for the whole family and is something totally unique. Comedy and technology blends perfectly with percussion, mime and live music. Join the other 25 million people who have been wowed over the years by the antics of the Blue Man Group.
If you want to make it extra special for Dad, treat him to a VIP Experience, which features a backstage tour, a souvenir program and VIP lanyard, popcorn and soda, merchandise discount and an exclusive private meet-and-greet and photo opportunity with a Blue Man after the show.
Where: Universal Orlando Resort, 6000 Universal Blvd, Orlando, FL 32819
Details: Blue Man Group Orlando
---
Let Dad Fly with an Astronaut
Is Dad a bit of a space cadet? He'll love coming face to face with a real life astronaut at Kennedy Space Center. Fly With An Astronaut takes you on a half day guided tour of Kennedy Space Center with an experienced space explorer. How cool is that for Dad!
The half day program will showcase the iconic sites of Kennedy Space Center by motor coach. Tour Space Shuttle Atlantis and blast off on the Shuttle Launch Experience. The tour includes lunch served in the LC-39 Observation Gantry in the heart of historic Launch Complex 39.
The NASA astronaut visiting on June 17th and 18th 2017 is Jon McBride. Jon McBride served as the pilot of STS-41G aboard space shuttle Challenger and is a former naval aviator who has logged more than 8,800 total flight hours and 4,700 hours in jets.
The ticket cost includes a whole day at Kennedy Space Center, so once the tour is over you can carry on explore at your own pace.
Where: Kennedy Space Center Visitors Complex
Price: $199.99 for adults, $174 for children ($149/$134 for annual passholders)
Web: Fly with an Astronaut Tickets are limited to 43 guests so do book in advance.

---
Take Dad Right Back to Nature
If Dad likes flowers and fauna and natural beauty, then he'll love Leu Gardens. Especially with the offer of free admission for Dads on Father's Day.
Leu Gardens is a 50 acre botanical oasis offering numerous displays and a butterfly garden. Leu Gardens is also home to Florida's largest rose garden. Take a stroll through meandering trails shaded by 200-year-old oaks or visit the museum.
Where: 1920 North Forest Avenue Orlando, FL 32803
Hours: 9am – 5pm
Price: Free for Dad. $10 adults, $3 Children K-12
Details: Father's Day at Leu Gardens
---
Take Dad on a Tree Trek on Father's Day in Orlando

If Dad's a bit of an adventurer, he'll love Orlando Tree Trek. Dad can climb free on Father's Day with the purchase of two regular tickets. And if you're staying at one of our vacation homes, Orlando Tree Trek is just minutes away.
This exciting aerial adventure includes six different color coded courses, 97 challenging elements and two giant 425′ zip lines. Lots of fun for the whole family. There are kids tickets for ages 7 – 11, junior tickets for 9+ and adults tickets for 12+.
Where: 7625 Sinclair Rd, Kissimmee, Florida 34747
Details: Orlando Tree Trek – 407-390-9999
---
Make Dad King of the Castle
Medieval Times Dinner show has free entry for Father's Day in Orlando (with a full priced adult) from June 5th through 18th 2017.
You can upgrade to the Father's Day Package for $25 and get a framed photo of Dad, a  "It's Good to be King" can koozie and 25oz glass stein with choice of draft beer or soda.
Where: 4510 W Vine St, Kissimmee, FL 34746. 
When: June 5th through June 18th 2017
Price: $62.95 Adults, $36.95 children 12 and under
Book: Discount Code: DAD17
Details: Medieval Times Fathers Day Special
---
Is Dad an Old Dinosaur?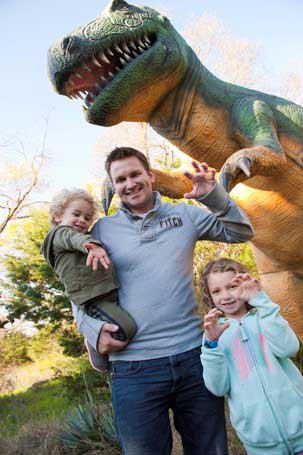 Then he might enjoy Dinosaur World at Plant City. Free admission for Dad with 1 paid child's admission.
Dinsosaur World is home to hundreds of life-size dinosaurs with lots of interactive exhibits in over 20 acres.
You might pick up that perfect prehistoric gift for Dad in the 7000 square foot store jam-packed with artifacts. Will he love a dinosaur egg? Or raptor claws?
Kids will love the Fossil Dig and uncovering the dinosaur skeleton buried in the Boneyard. Or they might uncover hidden gem as they sift through trays in the Gem Mine.
Where: 5145 Harvey Tew Road, Plant City 
Price: $16.95 Adults | $14.95 Seniors | $11.95 Children 3-12 | Under 3 Free
Hours: 9am – 5pm
Details: Dinosaur World
---
Dad's Day Feast at the Serengeti Overlook Busch Gardens

If you're visiting Busch Gardens, this will be perfect for Dad. The Dad's Day Feast includes appetizer, entrée, salads and sides, dessert and up to 2 craft or domestic beers.
Serengeti Overlook Restaurant gives great views of the Serengeti Plain and Cobra's Curse.
When & Where: June 18th 2017 up to 7pm – Busch Gardens Tampa
Price: Adults: $39.00, Children (9 and under): $19.00 3 and under: Free (passholder discounts available)
Web: Dad's Day Feast – Busch Gardens
---
A Comedy Treat – Make Dad LOL on Father's Day in Orlando

It's an annual tradition to give Dad a free show at SAK Comedy Lab on Father's Day. An ensemble of improv actors have been entertaining audiences in Orlando since 1991. It's usually a sell out show, so do get tickets in advance.

Where: 29 S Orange Ave, Orlando, FL 32801 
When: Sunday June 18th 2017 – 2 shows – 2pm and 4pm
Price: $17.99 – Dad gets in free.
Details: Make Dad LOL
---
Put a Spring in Dad's Step at Disney Springs
There are several offers for Father's Day in Orlando happening at Disney Springs:
Father's Day Vintage Amphicar Tour
The Boathouse is offering a $25 discount and free family photo when you take Dad on a Vintage Amphicar Tour between June 16 through June 19th 2017.
For information call (407) 939-2628
Father's Day Steak Special
If Dad likes his steak he'll love the Father's Day Package at STK Orlando. On June 18th, the special Father's Day Special features 70 day Dry Aged Prime New York Strip with Bourbon-Peppercorn Sauce or New York Strip menu topped with a Lake Meadow Farm Egg. Dad will receive a complimentary POP-sicle – Bourbon in a champagne glass with an orange bitters ice-cube, along with a special gift to take away. Call (407) 917-7440 for reservations.
Father's Day Surf & Turf
Does Dad prefer seafood?  A special treat at Paddlefish features a Surf & Turf Father's Day Special at $85 a head, with a 20-ounce Porterhouse steak, jumbo Gulf shrimp and a double-stuffed potato paired with a glass of Turnbull. Call (407) 934-2628 for reservations.
3 Course Father's Day Special at Frontera Cocina
Frontera Cocina are offering a special 3 course set menu that includes an appetizer of Poached Florida pink shrimp with Baja Bay scallops, followed by Surf & Turf Frontera Style and finishing with a dessert of a delicious soaked sponge cake. All washed down with a Modelo Especial draft beer. $54.99 per head. Cal 407 560 9197 for reservations.
Pampering Sessions at Senses
If Dad would love a little pampering, Senses – A Disney Spa will be showcasing their Mobile Spa Pop-Up from noon until 9pm June 16 to June 18. Located at the Marketplace Co-Op Center Hall the Father's Day offer features massages, facials and foot rubs. Dad will also be able to purchase 2 types of beer for sale at Twenty-Eight & Main
Sprinkles Dad Box
If Dad has a sweet tooth, the Sprinkles Dad Box will be perfect for cravings. From June 11th through 18th, the Sprinkles Dad Box includes cupcakes with Sprinkles stars and DAD sugar decorations. Flavors include red velvet, vanilla milk chocolate, black and white, and salty caramel.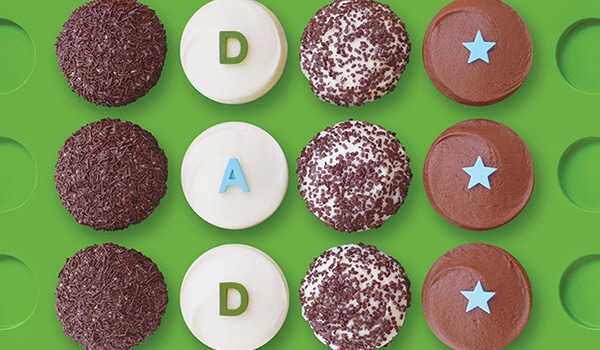 ---
Make Dad the King of LEGOLand during Knight Lights 
LEGOLand Florida are running a special promotion for all Dads for tickets purchased between June 12th to June 18th. Buy 1 child ticket at full price and receive an adult ticket free. You can get up to 3 free tickets per transaction. Use code 2086. You can select any date for use between June 12th through September 4th.
Where: LEGOLand Florida
When: Purchase Tickets between June 12th to June 18th 2017
Web: LEGOLand/Dads
---
So there you have it. Plenty to keep that special man in your life entertained. Have a Great Father's Day in Orlando!
Save
Save