Dinner Shows in Orlando are the perfect way to enjoy entertainment and food in one go.
There are some awesome dinner shows in Orlando. Some for kids, some for adults and most for families to enjoy together. From Pirates and Knights to comedy crime, here's our rundown.
Dinner Shows in Orlando:
Medieval Times Dinner & Tournament
Take a step back to the middle ages where Knights in shining armor on horseback do battle with jousting and sword fights to win the lady's heart.
Leave your manners at home – there's no utensils for the feast. Kids will love it! Your four course feast includes soup, chicken, sides and dessert with a soft drink. A full bar service is also available.
If it happens to be a birthday occasion when you're visiting, sign up for the Birthday Fellowship and you'll be given free admission.
---
Pirates Dinner Adventure
Ahoy me hearties! Enjoy this swashbuckling mix of exploits, explosions and laughter. There's thrills and spills set aboard a 46 foot 18th century Spanish galleon in a 300,000-gallon indoor lagoon with night sky lighting. You'll be sat in one of 6 additional ships surrounding the action.
Each spectator ship has its own mascot pirate to cheer on. You might even be picked to take part in the adventure against Captain Sebastian the Black and his band of not so merry men.
---
The Outta Control Magic Comedy Dinner Show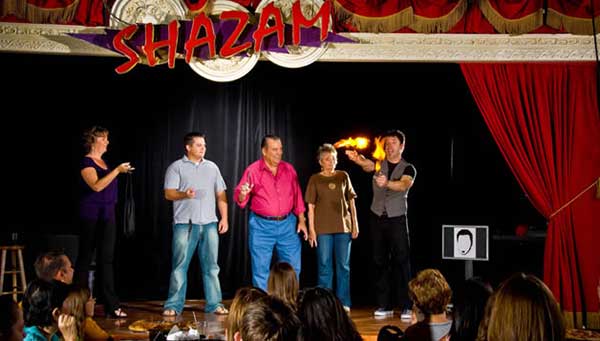 The title says it all really. Located at WonderWorks, this is one of the funniest dinner shows in Orlando.
It's a fun-filled magic show with audience participation and is perfect for adults and kids aged 4 upwards. With a combination of magic, impersonations and improv comedy, the show keeps everyone entertained.
The dinner includes unlimited fresh hand-tossed cheese and pepperoni pizza, salad, beer, wine, soda and dessert.
Sets are limited, so do book early.
---
Sleuths Mystery Dinner Show
Did you imagine you might be dining with criminals while on vacation in Orlando? Well here's your chance in one of the longest running dinner shows in Orlando. Meet the characters, perhaps join in a cameo role.
Wine and dine on a full three course meal and be thoroughly entertained as you strive to solve the crime. If you uncover the criminal, you get a prize. Suitable for all ages.
There are different themes throughout the year and also Holiday shows
---
Capone's Dinner & Show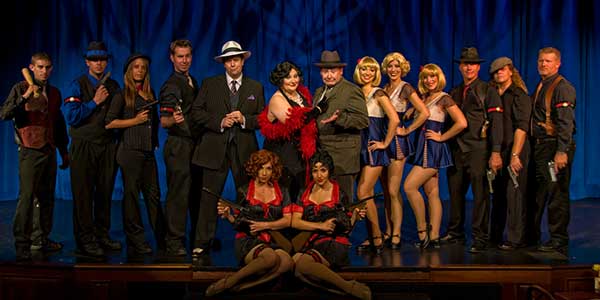 "Yous guys 'n gals are gonna enjoy de show. Right?"
A fun for everyone comedy show from the roaring twenties that's been running for more than 20 years and includes audience participation.
The menu features soup, salad, pasta, a hot buffet, meat carving station and dessert all washed down with beer, wine or sodas. With over 1100 excellent reviews on Tripadvisor, you know you'll have a good time. Suitable for all ages.
---
Titanic Gala Dinner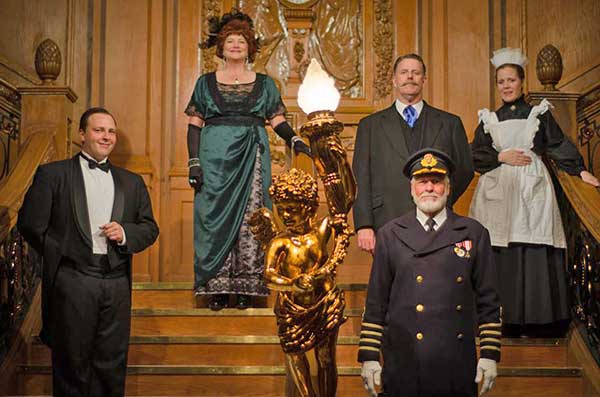 One of the most historical dinner shows in Orlando, The Titanic Gala Dinner celebrates the Captain's birthday on that fateful night of April 14th.
Become a 'passenger' and get an insight into what happened. Your tour guide will make the show come alive.
Interact with the crew and first class passengers, including Molly Brown, for pre-dinner cocktails and enjoy a three course dinner of salad, chicken or beef, dessert and champagne toast. Children's entrees include mac n cheese or chicken tenders.
Your admission includes a tour of Titanic The Artifact Exhibition Galleries. The Dinner event is every Friday and Saturday. Flip flops and shorts might not be appropriate – you are in the North Atlantic after-all, within reach of icebergs, so it will be a little cool.
---
Hoop-Dee-Doo Musical Revue
Disney's Hoop-Dee-Doo Musical Revue is one of the highest rated dinner shows in Orlando.
This rootin' tootin and holler out loud Wild West dancing, singing and comedy show is set in a rustic dance hall at Disney's Fort Wilderness and Campground.
This family entertaining show has the added benefit of all-you-can-eat chicken, BBQ pork ribs, salad, beans, cornbread and strawberry shortcake. The kids will love the buckets of fried chicken.
Unlimited draft beer, wine and sangria are also included in the price.
A wonderful time will be had by all at this American-themed dinner theater. Disney's Fort Wilderness is a great place to explore too, the kids will love the atmosphere. Plan on arriving a few hours before the show and allow a little time to look around.

---
Disney's Spirit of Aloha Dinner Show
This open air show, with covered dining, features authentic food from the Pacific. Sample delicious bbq pork ribs, roast chicken, fresh pineapple, mango poppy-seed salad with mandarin oranges, Polynesian-style rice and seasonal vegetables. Finish up with chocolate "mouse" volcano cake.
The Aloha Dinner Show is fun for all ages celebrates the islands of the Pacific. The fire knife dance will have you in awe and there's song, hulu girls dancing and much celebrating.
The show is set overlooking Seven Seas Lagoon and offers great views.
---
Wantilan Luau Dinner Show
Not to be out done by Disney, Universal are also hosts to one of the South's themed dinner shows in Orlando. The Wantilan Luau Dinner Show is held at  Loews Royal Pacific Resort at Universal Orlando with a Hawaiian dinner.
The kids will love the all-you-can-eat buffet that features finger lickin' chicken tenders, mac and cheese, peanut butter and jelly and pizza. There's also pit roasted suckling pig and whole roasted South Pacific wahoo.
Hawaiian music, hula dancers, fire dancers and fun!
---
Plenty of choice to keep all ages happy. Go have fun while having dinner!