There are so many attractions in Orlando you'll be totally spoiled for choice! 
From rockets and rides to wax-works and skeletons, attractions in Orlando are multiple outside the theme parks.
Take a look below at the many attractions in Orlando. We'll be adding to this page all the time, so do pop back and see us again.
Attractions in Orlando – What will You choose?
Kennedy Space Center Visitors Complex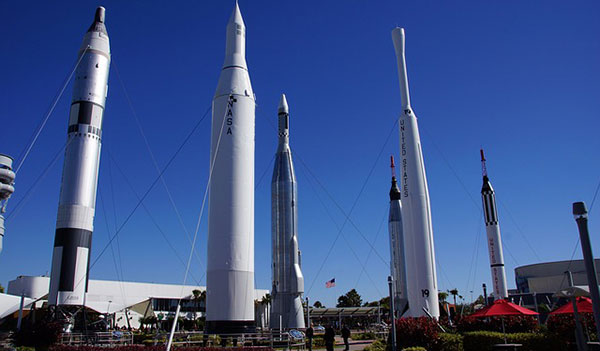 Not really one of the attractions in Orlando as it's located on the Space Coast. But it warrants a mention under this head as a major attraction.
The Kennedy Space Center Visitor Complex is an inspiring display of exhibits, historic spacecraft and memorabilia with a feast of interesting attractions.
The admission price includes transportation to Launch Complex 39 and the Apollo/Saturn V Center museum which features space related exhibits including an Apollo capsule.
The Astronaut Hall of Fame is closing till late 2016 before opening at its' new location in the Visitor's Complex.
Two theaters simulate the tension in the Apollo firing room during a launch and the edge of your seat thrill of the Apollo 11 moon landing.
Other attractions include the rocket garden, Space Shuttle Atlantis display, Shuttle Launch Experience, Space Mirror Memorial and Angry Birds Space Encounter.
Address: Kennedy Space Center, SR 405, Florida 32899
Tel: (321) 449-4400
Website: Kennedy Space Center
---
The Coca-Cola Orlando Eye
One of the attractions in Orlando that lets you see the whole City and surrounding areas.
Part of I-Drive 360 is the Coca Cola Orlando Eye, a giant observation wheel with 30 air-conditioned capsules capable of holding 15 passengers each. Soaring to 400 feet, the glass capsules provide a 360 degree view of Orlando and Central Florida.
On a clear day, you can see all the way across to Kennedy Space Center. Take a pair of binoculars with you for an even better experience.
The slow-moving wheel provides a smooth and safe 15 minute ride and tickets include a viewing of the pre-flight 4D Cinema Experience.
Address: 8401 International Dr, #100, Orlando, FL 32819
Tel: (866) 228-6438
Website: Orlando Eye
---
Madame Tussaud's Orlando
One of the attractions in Orlando where the celebs hang out!
Located at the I-Drive 360 is Madame Tussauds offering a plethora of celebrities ready, willing and able to have selfies taken alongside visitors.
Get up close and personal with One Direction, David Beckham, President Lincoln and Walt Disney. Sports personalities like Tiger Woods are in the house, as is Elvis Presley, Michael Jackson, Katy Perry, Selena Gomez and a host of celebs.
Fun for all the family. Perfect for a rainy day too.
Address: 8387 International Dr, Orlando, FL 32819
Tel: (866) 630-8315
Website: Madam Tussauds
---
Orlando Sea Life Aquarium
Also located at the I-Drive 360 hub, SeaLife is home to just about every sea creature imaginable barring Moby Dick.
Nemo, or rather clownfish, along with turtles, sharks, seahorses, stingrays, barracuda and octopus can all be observed close up in the aquarium as part of a fantastic and  educational experience.
Visit the Interactive Rockpool for an insight into what happens daily in the coastal areas of the USA.
Friendly and helpful staff are on hand to answer any queries.
Address: 8449 International Dr, Orlando, FL 32819
Tel: (866) 622-0607
Website: Sea Life Orlando
---
Skeletons: Animals Unveiled
One of the weirdest and funkiest attractions in Orlando.
What does a penguin look like under the skin and flesh? Or a horse? Or any other animal, fish or bird to be found on our planet. And the mythical Centaur, could it really exist? Find out for yourselves at Skeletons: Animals Unveiled at I-Drive 360.
This fascinating collection of bones belonging to more than 450 real creatures is interesting and educational for all ages.
Helpful and friendly staff will answer all your questions and youngsters can join in on the scavenger hunt.
The gift shop has an extensive array of merchandise to take home as a reminder of fun-filled time spent on anything but a bone idle visit.
Address: 8441 International Dr Suite 250, Orlando, FL 32819
Tel: (407) 203-6999
Website: Skeletons Museum
---
Ripley's Believe It Or Not
Enter the sloping surreal building at containing 10,000 square feet of incredible exhibits and take a self-guided tour of 16 themed galleries. With 600 of the world's strangest artifacts on view, spend as long as you want deciding if you can believe it or not. This is family entertainment with a sprinkling of educational value thrown in for good measure.
There are plenty of things to do and see for all ages.
Address: 8201 International Dr, Orlando, FL 32819
Tel: (407) 345-0501
Website: Ripley's Believe it or Not
---
Titanic The Experience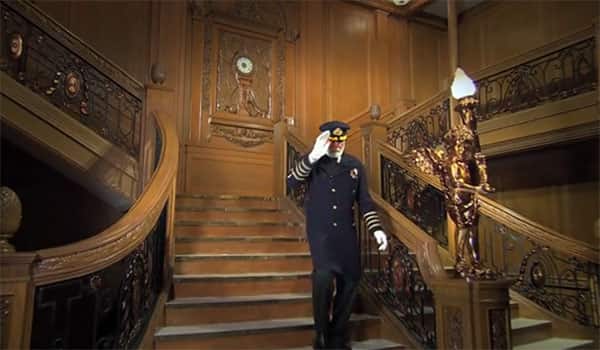 What was it like on the Titanic before and during its' sinking just over a hundred years ago? Find out for yourself on a guided or self-guided tour of 17 galleries featured in over 20,000 square feet of historical artifacts. View full-scale recreations of the Grand Staircase, a First Class cabin, the Verandah Cafe and many other exhibits.
This compelling and moving exhibition will hold the attention of everybody and even has a kid-friendly section containing a host of fun facts to satiate their curiosity.
Find out details of the "character" you represent and discover what happened to them on that cold and fateful night.
Become a participant at the Titanic Gala Dinner Event on Friday and Saturday evenings for a totally unique dining experience.
Address: 7324 International Dr, Orlando, FL 32819
Tel: (407) 248-1166
Website: Titanic The Experience
---
Holy Land Experience
A Christian theme park is set in beautiful grounds which holds weekly church services and bible studies. Its' theme is the architecture of 1st century Jerusalem using actors to 'bring the Bible to life' in daily, live and dramatic presentations.
Featured exhibits are the guided tour of The Scriptorium Center for Biblical Antiquities where the Garden of Eden, Noah's Ark and Bethlehem and others are on display.  The Jerusalem Street Market is a themed Middle Eastern marketplace and includes an authentically designed water well.
Its' aims are to be educational, inspirational, theatrical and historical.
Address: 4655 Vineland Rd, Orlando, FL 32811
Tel: (407) 872-2272
Website: The Holy Land Experience
---
Orlando Science Center
With an impressive 4 floors of interactive, hands-on and child friendly exhibits from dinosaurs to space, the OSC has something for everyone.
Giant screen theaters show HD 4K films of a National Geographic nature with 'Journey to Space', 'Deepsea Challenge', 'Robots 3D' and 'Galapagos: Nature's Wonderland' being just an example of what to expect.
With plenty of interactive activities for children at Kids Town combined with Science Stations, Exhibits Halls, Science Live and events, being bored is not going to happen.
Friendly and helpful staff are on hand for what could be an enjoyable full day. A Subway is on site should hunger pangs strike.
Address: 777 E Princeton St, Orlando, FL 32803
Tel: (407) 514-2000
Website: Orlando Science Center
---
Old Town
Located at Mile Marker 9 on the US 192 is Old Town. Consisting of two short parallel roads, the area is full of quirky and fun shops, attractions, bars (some with karaoke) and restaurants. One of the attractions in Orlando that is a favorite with visitors and locals.
The stage near the center of the activities has live music from Wednesday through Sunday every week. Country music is often accompanied by line dancing, hootin', hollerin' and a seriously good atmosphere.
Old Town is well-known for its weekly car cruises. Wednesday is Little Darlin's Street Party and Cruise-In featuring a classic car cruise from 5pm. Live music is from 6pm. It's custom to join in with The Stroll – if you don't know the moves, you can join in the lessons at 7.30 and master the dance made famous by American Bandstand.
Friday night is the All-American Muscle Car Cruise. There are 80s and 90s live bands  and the car cruise starts at 8.30pm. Cars start arriving from 4pm onwards and are on show prior to the cruise.
Saturday is a trip down memory lane with The Classic Car Cruise. Cars start arriving from 1pm so you can stroll around and look at the pristine vehicles. Live bands take to the stage with 50s, 60's and 70's music, followed by the Classic Cruise at 8.30pm.
Sunday is Sundae Family Funday with street performers an giveaways. Kids under 5 can get a free scoop of ice cream at Sweet Dreams between 6pm-8pm. Movie night starts at 8pm, watch a movie with the family under the stars.
For an adrenaline rush, the slingshot at the entrance hurtles you 350 feet into the sky. It's a great view of the action below.
Address: 5770 W Irlo Bronson Memorial Hwy, Kissimmee, FL 34746
Tel: (407) 396-4888
Website: Kissimmee Old Town
---
Fun Spot America
Right next door to Old Town is Fun Spot America. There's another one at 32819 on International Drive across from Universal Studios.
Attractions include kiddy, family and thrill rides, go-karts, bumper cars, roller coasters, the tallest skycoasters in the world and the new Gator spot at International Drive.
There is no charge to get in and you only pay for your rides. An all-day wristband is an option.
Food and drinks are available and the Fun Spots offer a fun alternative to the other larger theme parks.
Address: 2850 Florida Plaza Blvd, Kissimmee, Fl 34746
Tel:  407-397-2509
Address: 5700 Fun Spot Way, Orlando, Fl 32819
Tel:  407-363-3867
Website: Fun Spot USA
---
Showcase of Citrus
One of the many outdoor attractions in Orlando. Located on Highway 27 in Clermont, the Arnold family are 4th generation growers with a sprawling 2500 acre Estate. There's a good old fashioned country store, wine tasting, pick your own fruit and the worlds largest 4×4 adventure.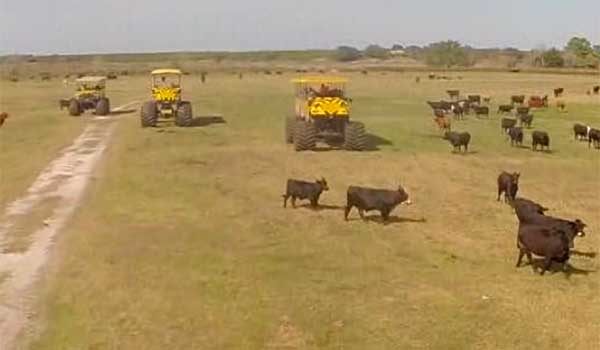 The 4×4 Monster Truck Off Road Eco-Tour will take visitors through natural land with wildlife ranging from alligators and zebra to water buffalo and watusi cattle.
It's a natural attraction that is perfect for all ages. Check Groupon for regular deals too.
Address: 5010 US-27, Clermont, FL 34714
Tel: (352) 394-4377
Website: Showcase of Citrus