Animal Encounters in Orlando
From gators to giraffes, there's so many opportunities to experience animal encounters in Orlando.
Gatorland
Orlando's vacation attraction with a bite. This 110 acre theme park and wildlife preserve is home to thousands of crocodiles and alligators including four rare "white" gators.
On site thrills include 'Adventure Hour' at the Alligator Breeding Marsh where visitors get within a whisker of a nose to snout confrontation with hungry alligators. Step into the Gator Wrestlin' Arena and pit your strength against an 9 foot opponent with 82 extremely sharp teeth…..and an appetite.
With a flashlight gripped firmly in your sweaty palm in the surrounding darkness, follow the winding wooden walkways through the Breeding Marsh on the Gator Night Shine adventure. 
Voted the "Best Zip Line in the USA", the Screamin' Gator Zip Line is a 400 yard challenge over the park's watchful residents below. Yet again, not for the faint hearted!
Gatorland's ultimate experience is the Trainer-for-a-day program which introduces the guests to dangerous but wonderful animals in an exciting exclusive package.

Address: 14501 S. Orange Blossom Trail, Orlando, FL 32837
Tel: 800 393 5297
Website: Gatorland
---
Safari Wilderness Ranch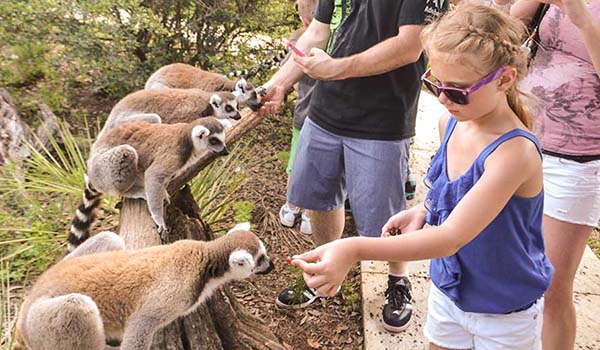 For perfect animal encounters in Orlando, choose your customized vehicle safari or camel expedition and see the beautiful, natural and serene surroundings at Safari Wilderness Ranch.
The hands-on interactions with the many animals will thrill every member of the family. The spectacular and educational trip on the vehicle safari will give you close-up encounters with many endangered  species of animals including eland, springbok, fallow deer, water buffalo and blackbuck antelope.
For a unique experience, take an hour and a half long expedition on a camel through beautiful landscape. Friendly and helpful guides will lead you through this game viewing safari with a difference.
Feeding animals and birds will thrill the youngsters in the family as they learn from the handlers.
Where: 10850, Moore Road, Lakeland 33809
Web: Safari Wilderness Ranch
---
Wild Florida Airboats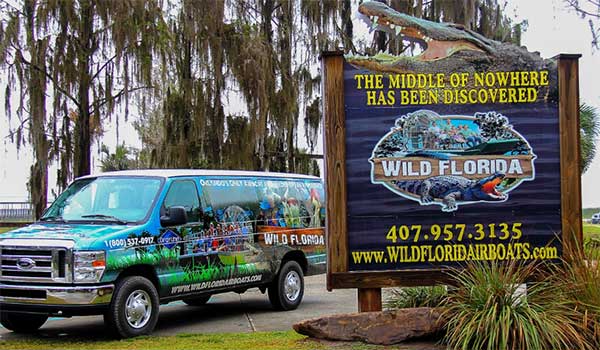 Ready to discover where the middle of nowhere actually is?
Set in Florida's beautiful natural landscape on the shores of Cypress Lake, Wild Florida provides 13 acres of nature at its' finest. Close to the headwaters of the Everglades, this animal park is home to deer, water buffalo, emu, wild boars, Watusi cattle and gators to name just a few.
Friendly and helpful staff are on hand for any questions and feeding and interactions with animals are part of the fun. The local sloth will also take time for a few photos taken with guests.
Race through scenic and remote places on an airboat ride for 30 minutes or an hour. This is an exciting way of seeing local birds, animals and possibly alligators, weather permitting.
A 4 wheel drive vehicle ranch tour is another option for your relaxing day out away from the hustle and bustle of the theme parks.
Where: 3301 Lake Cypress Rd, Kenansville, FL 34739
Web: Wild Florida Airboats
---
Giraffe Ranch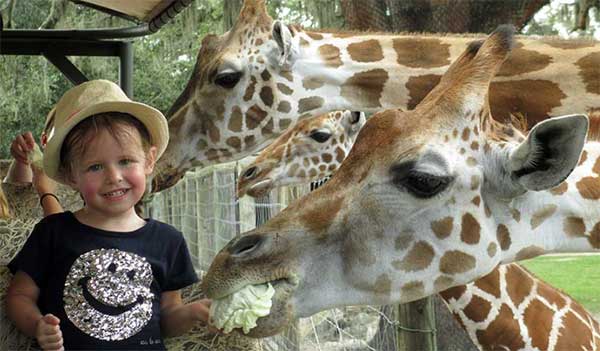 Another animal encounter gives you several options. Climb into a 4-wheel drive vehicle, ride a camel or jump on a Segway to tour Giraffe Ranch for the ultimate eco-adventure.
This native wildlife preserve in 47 acres of rolling countryside is home to animals and exotic species from all over the world including rhinos, zebras, ostriches, monkeys, pigs, wild cats, antelope and pygmy hippos.
Giraffe Ranch is a hands-on interactive farm for family members of all ages and tours last for between an hour and an hour and a half.
An incredible and memorable experience awaits.
Where: 38650 Mickler Rd, Dade City, FL 33523
Web: Giraffe Ranch
---
Al-Marah Arabian Horses
Would you like riding lessons or an interactive horse experience?
Then gallop over to Al-Marah Arabian Horses in Clermont for a perfect animal encounter.
Expert instructors will carefully guide you throughout lessons. Or join an interactive program and experience Al-Marah Champions and Arabian Nights Stars up close and personal.
Interactive horse experiences include meet and greet the horses, riding lessons, "Paint a Pony", horse tricks and how to train them. The 80 acre farm is home to 60 horses.
Where: 11105 Autumn Lane, Clermont, FL 34711
Web: Al-Marah Arabian Horses
---
Jungle Adventures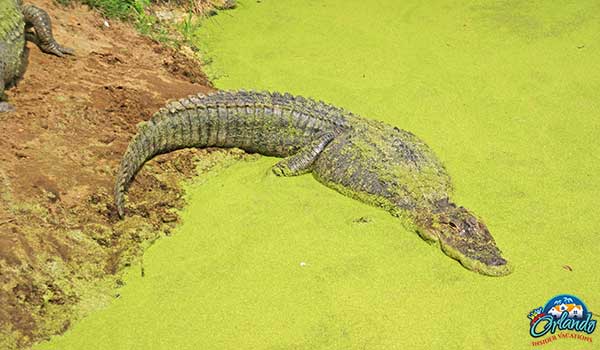 For an insight into what Florida used to be, Jungle Adventures is set in a natural jungle habitat. The area is home to panthers, black bears, deer, reptiles, mammals and tropical birds.
Friendly, helpful guides introduce you to baby alligators and other cute and interesting critters.
Watch alligators being fed at the Jumpin' Gator Jamboree or visit the Native American Village in this land that time forgot.
Take a jungle swamp cruise on the Green Gator River surrounded by alligators with flocks of birds flying above.
This is the real Florida and not a theme park experience.
Where: 26205, E. Colonial Dr, Christmas, 32709
Web: Jungle Adventures