Mount Dora: This Small Town Near Orlando Is The Perfect Addition to Any Vacation
If you're planning a trip to Central Florida, you're probably prepared for some excitement. But there's something magical about visiting a gorgeous small town, too.
A day trip to Mount Dora will provide a rest day for the kids and some grown-up time for weary parents.
This charming town is located about 30 miles north of Orlando and less than an hour's drive. Mount Dora offers incredible restaurants, beautiful parks and historic architecture.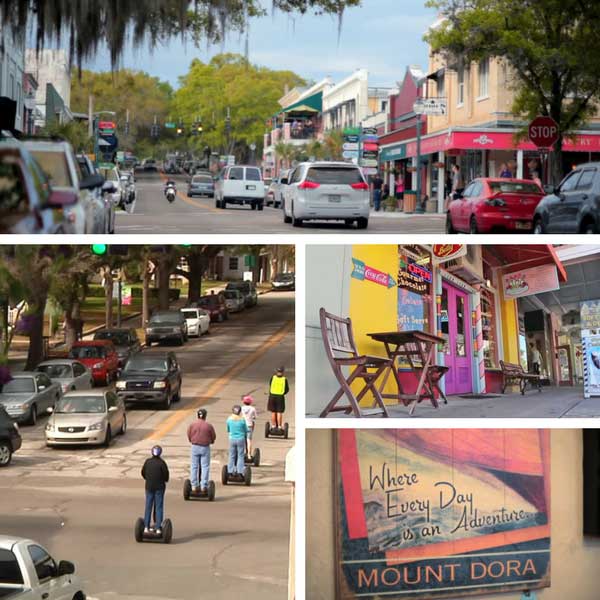 Mount Dora is also famous for its antique shopping, outdoor activities and many festivals. This is the perfect destination for families. Most of all, though, Mount Dora is celebrated for its small town charm.
Where to Shop in Mount Dora
Renningers
Whoever you are and whatever you like, Renninger's probably has something for you. The twin markets consist of both an upscale antique market and a flea market. They have thousands of finds both indoors and outdoors in a beautiful, shady setting.

Three times a year (January, February and November) the markets boom during the Rennigers Extravaganza. Over 1500 antique dealers arrive in Mount Dora and the event attracts thousands of visitors.
Downtown Mount Dora
Once known as the "Antiques Capital" of America, it's only natural that Mount Dora is a collectors paradise. But there's so much more on offer too. The pretty streets in downtown Mount Dora are lined with boutiques, gift shops and art galleries. For a small town, the shopping sure packs a punch.
If it's unique shopping on the agenda, Mount Dora has it.
Where to Eat in Mount Dora
The Goblin Market Restaurant:
There are plenty of restaurants in Mount Dora to delight any self-proclaimed foodie, but Goblin Market Restaurant is hugely popular. Not only is the food incredible, the atmosphere is like nothing you've seen before. The interior is like an eclectic mansion, and the outdoor patio is a springtime oasis. Closed Mondays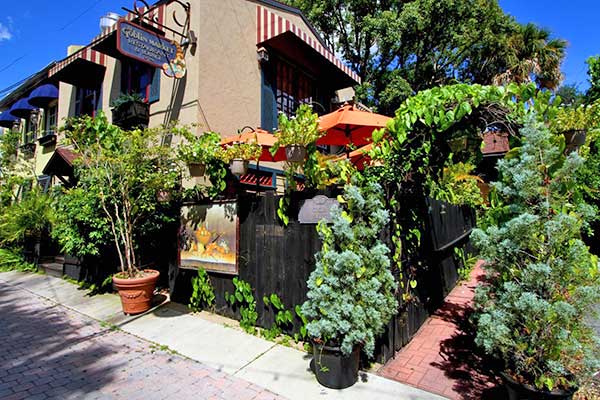 Where: 330 Dora Drawdy Way, Mt Dora, FL 32757
Web: Goblin Market
Pisces Rising
If you like Floridian coastal cuisine with a Caribbean flair, paired with waterfront dining, then this little gem is just for you. The food is delicious and the setting is a step back in time, with a modern blend. Pisces Rising is housed in a 1920s cracker bungalow overlooking the shimmering lake. They serve lunch, dinner and Sunday brunch.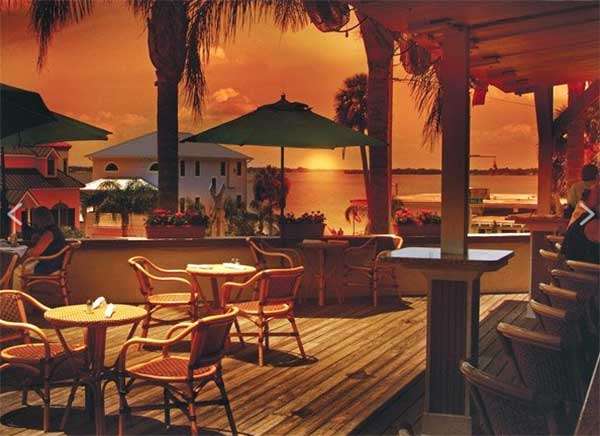 Where: 239 W 4th Ave, Mt Dora, FL 32757, USA
Web: Pisces Rising
And For Afternoon Tea: The Windsor Rose Tea Room
Fancy a little British culture while visiting this charming American town? Then call into the delightful Windsor Rose Tea Room.
The homemade scone with homemade clotted cream and strawberry jam is divine. Or you could go the whole way and order The Windsor – Scones with that yummy homemade clotted cream, Queen Victoria sponge cake, finger sandwiches, pastries and tea. They also serve breakfast and lunch. Closed Wednesdays.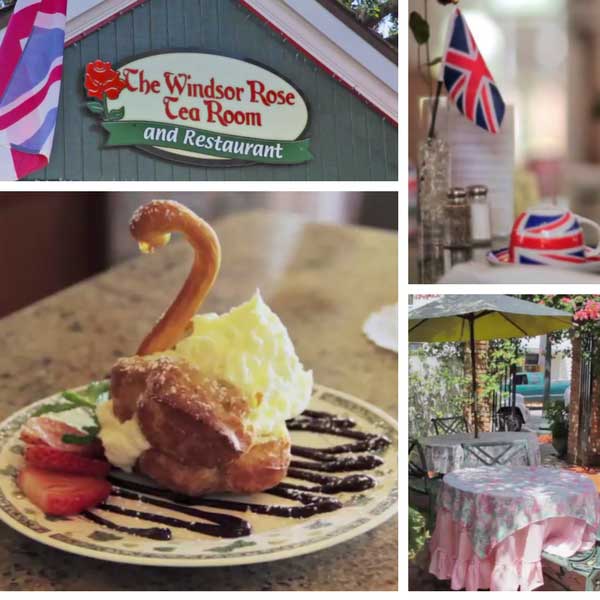 Where: 142 W 4th Ave, Mt Dora, FL 32757
Web: Windsor Rose Tea Room
Things to Do in Mount Dora
Take Boat Tour
Fancy a tour on your own high performance mini cat boat? Cat Boat Tours offer just that. Navigate your own 2 person Cat Boat while your guide escorts you on a 2 hour narrated tour. You'll get the lowdown on local history while seeing the stunning natural beauty of 2000 year old cypress trees lining the waterways.
The tours set sail from downtown Mount Dora and explore Lake Eustice and Lake Dora. The two are linked by the Dora Jungle Canal which has been voted "The Most Beautiful Mile in The World".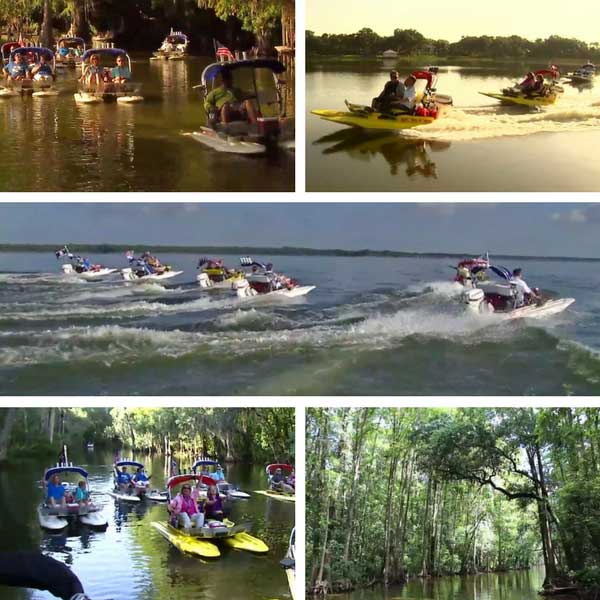 For the last 20 minutes of the tour you are given 20 minutes to explore on your own. Rip it up and have fun, or sit back and take a slow sail.
Regular price is $99 per person, but for a limited time you can book for $65 per person.
The Cat Boats are safe, stable and unsinkable. Tours are available Wednesday through Sunday from 10am to 1pm. The tours only take 14 at a time, so book in advance if you can.
Where: Craig Cat Tours, 311 S Tremain St
Web: Craig Cat Tours
Sit Back and Relax
If you want to sit back and let someone else do the navigating, take a trip with Premier Boat Tours or Rusty Anchor Tours.
Both offer narrated guided tours.
Or you can take a kayak tour with Central Florida Nature Adventures.
Take a Scenic Stroll
For those who prefer land to lakes, check out some incredible views of Lake Dora with a stroll through Palm Island Park. This 8 acre natural preserve offers peaceful boardwalks and trails through natural woodland.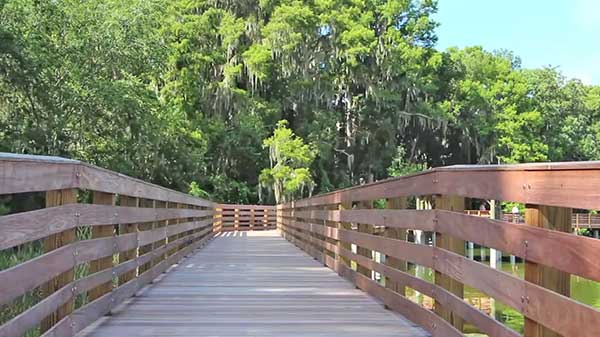 Try Wine, Beer & Food Tasting
Visit the Wine Den, one of Mount Dora's finest wine bar and shops to find the perfect bottle. On the first Friday of the month at 7:00 p.m., they offer a tasting.
Maggies Attic offers over 400 wines and 200 craft beers. They also offer monthly wine tasting events on the first and third Saturday of each month and craft beer tasting on the second Saturday. Check the event calendar to see what's on during your visit. The cozy bar is a magnet for locals and visitors alike and the store offers a range of eclectic gifts.
If you can't decide where to eat and drink, take a Taste of Our Town Tour. John and Paula will help you discover the hidden gems in their town, share stories and top you up on history.
Take in Some History 
You can choose from several adorable small-town museums in Mount Dora. Favorites include the Modernism Museum and the Museum of Speed. For some rich history, check out Mount Dora's Historical Society.
Take a Segway Tour
Starting in downtown Mount Dora, these one hour Segway tours will show you all the key points of interest and help you discover the town in detail.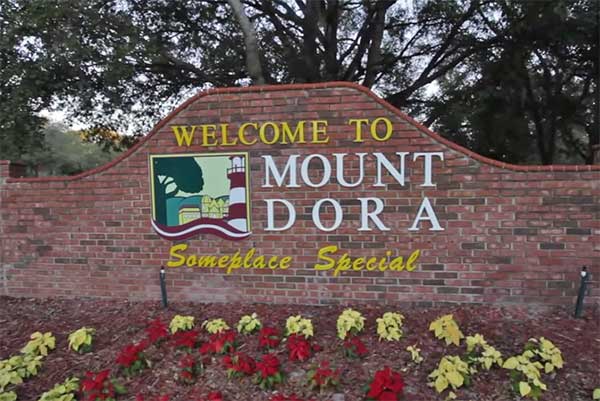 So next time you looking for a day away from the theme parks, check out this awesome little town near Orlando. It might just turn out to be one of your favorite Florida destinations.