There are so many Orlando attractions for kids it can be a daunting task narrowing it down. As well as the amazing theme parks, there's plenty more things to do in Kissimmee, Orlando and throughout Central Florida.
5 Orlando attractions for kids that Princesses and Pirates will love:
Bibbidi Bobbidi Boutique
It may be a dream of many little girls to get a princess makeover, but boys can get Knight makeovers too.
Boys and girls aged 3 to 12 can get full head to toe makeovers at two Disney locations. Over at The Magic Kingdom, there's a Bibbidi Bobbidi Boutique at Cinderella's Castle (theme park admission ticket required).
There's a second Bibbidi Bobbidi Boutique behind Once Upon a Toy at Disney Springs Marketplace. The location at Disney Springs does not require a theme park ticket.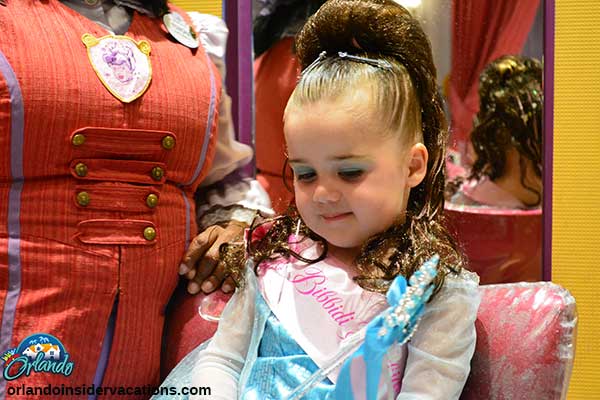 There are 3 packages available for princesses :
Crown Package from $59.95 includes:
Hairstyling
Shimmering make-up, face gem
Princess sash and cinch bag
Nail polish
The Courtyard Package from $99.95 includes:
Hairstyling
Shimmering make-up, face gem
Princess sash and cinch bag
Nail polish
Bibbidi Bobbidi Boutique T-shirt
Trendy tutu
The Castle Package from $199.95 includes:
Hairstyling
Shimmering make-up and face gem
Princess necklace, sash and cinch bag
Nail polish
Disney Princess gown of your choice (shoes not included)
Wand
Crown
There are also Frozen Packages and several upgrade options including photo add-ons.
The Knight Package at $19.95 is available for boys includes:
Hairstyling with gel
Mighty sword and shield
Confetti
You can take your own costume for a fraction of the cost.
Reservations essential, although you can call or even walk in to see if there are any cancellation spots available.
Call: 407 939 7835
Web: Princess Packages | Knights Package
If Bibbidi Bobbidi Boutiqes are booked up, you can get pirate themed makeovers for boys and girls at The Pirates League in Adventureland in the Magic Kingdom.

Pirates League Packages available:
The First Mate Package – $44.95
The Captain Hook Deluxe Package – $99.95
The Empress Package – $44.95
The Mermaid Deluxe Package – $84.95
The Mermaid Package – $44.95
Also in the Magic Kingdom, the Harmony Barber Shop located on Main Street USA offers Pixie Dusting hair glitter for girls and funky colored hair gel for boys.
If the boys get bored waiting for the girls to finish their Princess Makeovers (perfection takes time you know!) they can head over to A Pirate's Adventure in the Magic Kingdom. They can help Captain Jack raid 5 treasures hidden throughout Adventureland.
---
Airboat Swamp Tours
The girls might need to ditch the princess gowns on these Orlando attractions for kids, but lots of fresh air, wildlife and speed will more than make up for regular clothes.
Adults get to see "real" Florida and kids will love the thrill of an airboat ride.
Marsh Landing Adventures offer airboat tours from the headwaters of the Everglades. You'll see lots of creatures and critters that call the swamp home.
Wild Florida Airboats offer airboat tours that race through scenic and remote locations on Cypress Lake. There's also an animal park with deer, water buffalo, wild board and gators.
Wild Willy's Airboat Tours will show you the natural beauty of Lake Tohopekaliga in St. Cloud. You'd never know you were in the theme park capital of the world!
Boggy Creek Airboat Rides promise "Our unique tours will take you to explore the breathtaking beauty of natural wonders including wildlife such as alligators, turtles, exotic birds and more in their natural environment of wetlands and cypress trees".
Spirit of the Swamp Airboat Rides make sure you get great views of the breathtaking Florida outdoors, stunning scenery and amazing wildlife.
These natural Orlando attractions for kids will put you all right back in harmony with nature.
---
Orlando attractions for Kids – Chocolate Tours
Chocolate! Princesses and Pirates will love these Orlando attractions for kids!
The World of Chocolate Museum & Cafe has chocolate sculptures all ages will want to chomp into. See a tasty Statue of Liberty or Dutch Windmill. There's a short presentation with a little education and chocolate history thrown in to fascinate the kids.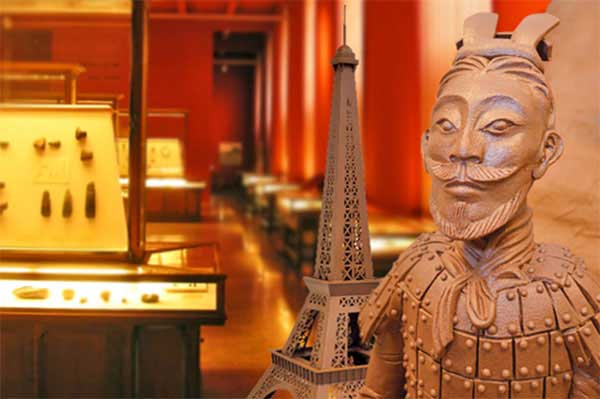 The tour moves on to the sculpture area where there are over 20 recognizable landmarks in all their chocolate finery.
Check out Groupon Offers. 
Chocolate Kingdom in Kissimmee is an interactive chocolate factory tour that takes visitors on the journey of chocolate from bean to tasty treat.
Kids can even customize their own chocolate bar for an additional cost.
Check Groupon Deals 
And while we're on the subject of chocolate, if you plan on visiting Universal Orlando, absolutely do not miss the Toothsome Chocolate Emporium and Feast Kitchen for stunning delights like these:
---
Mermaids & Manatees
Perfect for boys and girls, all ages will love these gentle giants of the Florida waterways. They are manatees in the Florida waterways all year round, but from November to March they are easily spotted in the warmer natural springs.
Weeki Wachee is a 538-acre state park and home to one of Florida's most unusual attractions – the Weeki Wachee Mermaid Shows.
Mermaid shows are offered daily in the Mermaid Theater.
Bucaneer Bay has a fun-filled flume ride and there's white sandy shores, picnic pavilions and riverboat cruises.
You can also take a kayak or canoe to go and see manatees upstream.
There are many springs to see manatees in Florida, one of the most popular is Blue Springs State Park. The 72 degree crystal clear waters are a magnet for herds of these magnificent creatures. The waters are pretty awesome in the summer months for tubing and swimming too.
For more manatee spotting, Crystal River Three Springs is home to hundreds of manatees during the winter months. This is also the only location you can legally swim in the waters with manatees.
Homosassa State Park offers an underwater observatory where visitors can view the resident manatees. You may also spot a rare Florida Panther, bears, gators or bobcats among the many creatures and critters that reside here.
---
Monster Truck Safari
Just a few miles from our Orlando Vacation Homes is Showcase of Citrus, home to the World's Largest Monster Truck Safari.
This family run roadside attraction offers the 45 minute Monster Truck Eco Tour taking visitors through the 2500 acres of natural orange groves and swampland.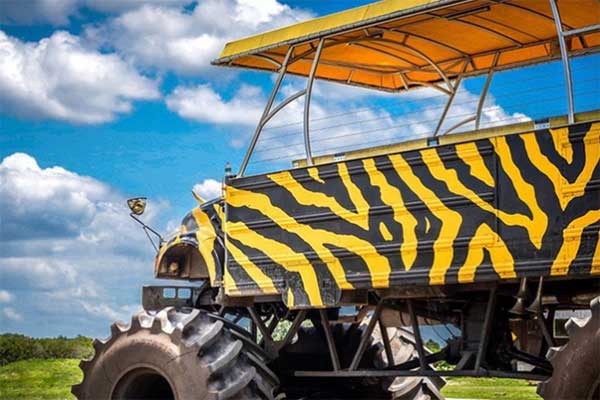 And what's more natural to Florida than Mickey Mouse? Oranges.
Pick your own here, along with over 70 varieties of U-Pick citrus. You can see what's in season when you visit using the guide on their website.
There's also a country store offering freshly picked fruit, seasonal squeezed juices, specialty jams, jellies and syrups, salsas, dressings and sauces.
The kids will love the sweets and treats including frozen yogurt, hot boiled peanuts and fresh-baked goods.
Check Groupon for discounted deals.
We hope this round up of Orlando attractions for kids gives you some ideas to keep the little ones amused. Let us know if you found other favorites.
---
---