Thanks for popping over to see us from The Main Street Mouse!
All our visitors from The Main Street Mouse will receive a $100 discount off any stay booked with us of 6 nights or more, or $50 off any stay of 5 nights or less. Just use the coupon code TMST when you contact us or fill in the form on the right for automatic discount.
Are you planning a trip to Orlando for a magical vacation? Have you ever experienced the space and amenities only a vacation home can offer?
We'd love the opportunity to show you the many benefits compared to a hotel.
You'll LOVE the BIG Savings!
Rates for our 3 bedroom homes start at just $185 a night (+ tax) for a whole house! For up to 7 guests!
Rates for Serendipity start at $360 a night (+ tax) for up to 10 guests!
Less than the cost of a moderate resort room at Disney!
Vacation homes represent outstanding value, especially when the cost is split with friends and family.
We'll give you a fully itemized quote, and there won't be any hidden costs at any time. What you see is what you pay.
No parking fees
No  resort fees
No WiFi fees
No booking fees
No admin fees
You'll Make Big Savings on Food Too!
We all know dining out is a huge part of any vacation. There are so many amazing restaurants right on your doorstep. But eating out breakfast, lunch, dinner and snacks can add up to a small fortune.
Not to mention popping those buttons on the waistband!
Whether you're preparing a full family feast or just want a midnight munch, having your own kitchen makes it all so effortless. It also means you can cut down on endless theme park burgers and fries. And keep the sugar count down for the kids.
They'll be hyper enough without all that added sugar!
All 3 homes offer full-sized kitchens with everything you could need. And there's a gas grill/BBQ in each home too.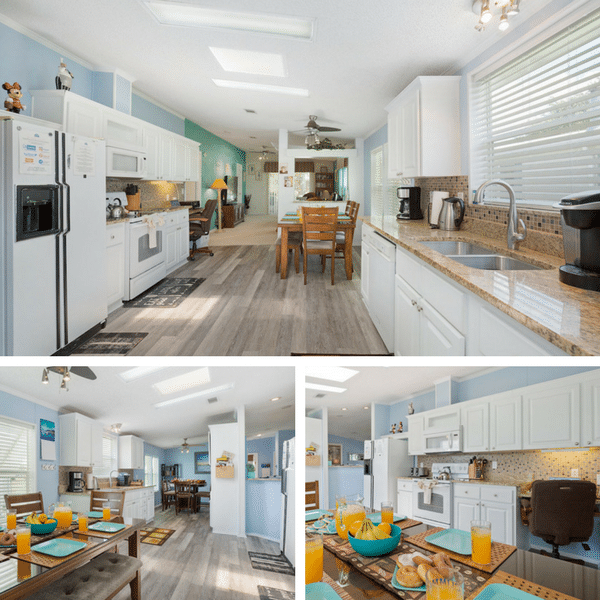 You'll Love the Relaxation
After an exhilarating day at the parks, the peace and quiet when you open the front door just can't be beaten. Enter your own tranquil haven!
Staying in a vacation home gives you the chance to unwind, enjoy precious time with family and make those all important memories.
Isn't that what vacations are all about?
We have 3 homes all within 5 miles of Walt Disney World offering lots of space and loaded with amenities.
Serendipity at Indian Creek is a 5 bedroom, 4 bathroom home with a private pool, hot tub and game room.
Serenity Lake House has a spacious open plan living area, 3 bedrooms, 3 bathrooms and a screen room and spacious backyard overlooking a beautiful lake.
Sleepy Hollow is a 3 bedroom, 2 bathroom home with two living areas and a sun deck.
Both Sleepy & Serenity are manufactured homes located on a terrific gated resort offering 3 pools, fishing lakes, tennis, racquetball, kids playgrounds, tiki hut and lots more facilities.
So Much Space for Everyone
All 3 homes offer spacious open plan living areas where you can all kick back together.
If you want to make noise, go ahead and shout, nobody will hear you! No more neighbors through thin walls to worry about.
The kids can play and run around without you having to worry about disturbing anyone else.
Hang out together in the living areas and watch one of the many Disney classics – you'll find lots of DVDs and Netflix too on massive TVs in the living rooms.
Every bedroom has a flat screen TV too.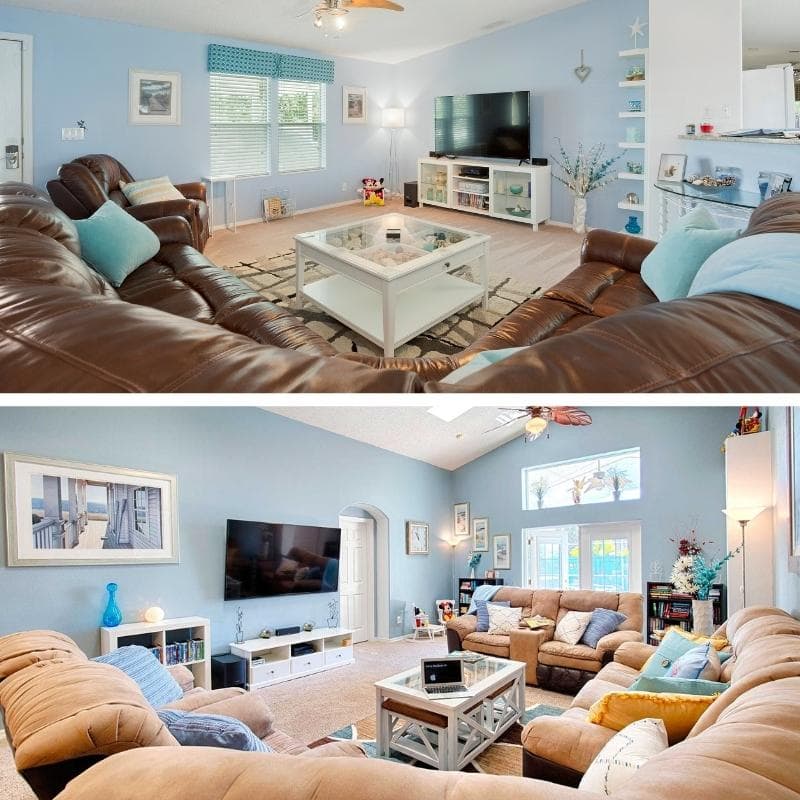 Make the Most of Florida's Outdoor Lifestyle
Making the most of outdoor living is a big thing in Florida. You'll love the outside space all 3 homes offer. Peace and quiet to relax, soak up that glorious sunshine and just catch your breath. All 3 homes have outdoor seating areas with a grill/BBQ.
Serendipity has a hot tub where you can rejuvenate and unwind at a hectic day at the parks. Relax while the kids squeal and splash in the pool. The whole pool area is enclosed by a whimsical themed fence, you're not overlooked from any direction.
Serenity has a peaceful backyard overlooking a tranquil natural lake. The only rear neighbors were put there by Mother Nature herself! Pull up a chair for those spectacular Florida sunsets.
Sleepy has a fully screened sun deck overlooking a spacious grassy area. The only noise you'll hear is crickets and frogs. Sit back and soak up the silence.
A Great Night's Sleep is VITAL to Tackle the Parks like a Pro!
The adults will all have their own peaceful haven in elegant king bedrooms – Serendipity has 3 king suites, Serenity and Sleepy both have 2 kings. All upgraded heavenly posturepedic pillow tops, super soft linens and cloud-like pillows.
THE KIDS WILL TOTALLY ADORE THEIR MAGICAL THEMED BEDROOMS.
Serendipity has two themed rooms: Nemo & Dory watch over the little ones in the Underwater Room and Shrek, Fiona & Donkey reside in Shrek's Kingdom. But, we have plans to retire Shrek (awww! we'll miss that ogre!) and transform that room into a Harry Potter theme room.
Serenity and Sleepy both have magical Harry Potter theme rooms already and all ages absolutely love them! Lots of themed decor and magical additions.
You Can't Beat the Location
All our homes are right in the heart of the action. Minutes to the magic!
We're actually closer to Animal Kingdom than Disney's Contemporary Resort or Bay Lake Tower!
We can give you a terrific short cut that will make it effortless to get to the Disney parks. And even easier to break the day to come home for lunch.
If you're heading to Universal Orlando or any of the other endless attractions, it's all within easy reach.
You can check drive times to the various attractions here:
Drive Times from Indian Creek
Drive Times from Vista del Lago
Endless Amenities INCLUDED at No Extra Cost
WiFi: We provide secured lightening speed 5G 200mbps Wifi – no more slow wifi shared  with hundreds of other guests.
Laundry: A large washer and dryer means you can head home with a suitcase full of clean clothes! And you can save space by packing light. We even provide laundry detergent and fabric softener!
Chef Style Kitchens: Having owned a restaurant for almost 30 years, we love us some quality kitchen gadgets! We like professional grade kitchen equipment, so we're sure the chefs in your family will love cooking up a storm.
Welcome Starter Pack: The last thing you need when you arrive is to worry about groceries. You'll find our welcome grocery pack contains coffee, tea, sugar, juice, bread, butter, snacks, popcorn, candy and cereal.
Household Products: Who needs to worry about stuff like that on vacation? You'll find plenty of cleaning products (but do you really want to clean on vacation?!) There's bathroom tissue, facial tissue, hand soap, liquid soap, trash bags, dish detergent, laundry detergent and hotel style shampoo, conditioner, body wash and lotion to start you off.
Towels & Linens: No need to bring anything with you. Each bed will be made with freshly laundered linens prior to your arrival and there are spare linens in each bedroom. Every bathroom has ample bath towels and there are plenty of towels you can take to the beach if you have a day at the coast.
For Our Tiny Guests: We know just how much luggage the little guys can take up! We have cribs, pack n plays, bed rails, jogging strollers, double strollers, lightweight strollers, high chairs, swimming diapers, baby baths, potty, bedding, wipes, baby monitors, changing mats, kiddy plates and utensils, sippy cups, toys, books and games. Phew!
The bunk beds in the Harry Potter theme room has full size stairs up to the top bunk, not ladders. Finally, all bathrooms used by the kids have built-in toilet tot seats and steps to reach the sink.
Housekeeping: Rental homes are totally self catering style vacations, but some guests do like to take the optional housekeeping service. Our housekeeping team offer a daily service or a mid-stay clean service. If you would like details of either service just let us know and we'll make arrangements.
Laid Back Luxury: Our homes are elegantly decorated with hand selected furnishings we think our guests will love. No cheap furniture packages, no cheap mattresses and pillows, no thread bare towels, no slow wifi, no cheap tv package, no cheap anything.
We like to provide enough luxury and small touches to make it extra special, but we want you to feel comfortable enough to put your feet up, kick back and just relax.
If you made it this far down, THANK YOU!
Finally, You Get Us us Part of the Package!
Not only do you get to stay in a great home, you also get us. We're here to answer questions and offer tailor-made suggestions and recommendations. We want to make sure you have the BEST time possible. We have a blog and travel pages packed with info. PLUS all our guests are given access to amazing premium planning tools too:
Crowd Calendars for Disney & Universal to help you decide which days to spend in which parks
Custom Touring Plans that tell you step-by-step the best way to experience all the attractions you wish to see
In-Park App with all the information you need on lines and wait times to make the most of your day
Automated Searches for hard to get Disney dining reservations
Disney Menus and more restaurant reviews than Yelp and Trip Advisor combined
Character Locator – complete guide to all Disney character times and locations, even the hard to find and secret ones!
All at no extra cost, just part of our service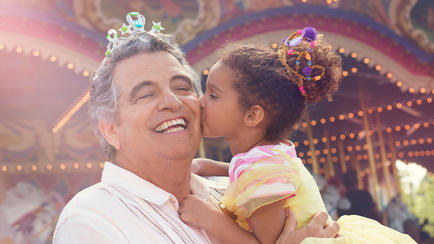 If We Have You Convinced, We'd Love to Welcome You!
Click on the images below to take a closer look at each home, or fill in the form on the right. We'll get right back to you with a fully itemized quote.
You can also use the chat box, just at the bottom of this screen.